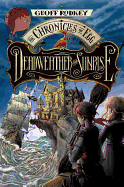 Those of us who grew up tormented by siblings dreamt that everything would be perfect if they'd just disappear one day. Which is just what happens to 13-year-old Egg.
Ignored by his father and harassed by both his sister and brother, Egg watches all three fly off in a hot air balloon. He misses them, but finds his life so much improved on beautiful Sunrise Island (where the family takes their twice-yearly vacations) that he doesn't mind--until someone tries to kick him off a cliff. From there, this highly enjoyable book picks up speed and doesn't stop until the last page.
Egg grew up across the bay on Deadweather Island, populated by pirates. But nothing could have prepared him for the world he suddenly faces, full of ancient legends and double-crossing businessmen. As he tries to figure out who wants his family dead and why, he finds that the only people he can trust are a one-armed cabin boy (who tried to kill him when they first met) and a girl he has a crush on (and whose father wants Egg dead).
Rodkey's smart, fast-paced writing is a great match for fans of the Mysterious Benedict Society books who crave a little more danger. Though parts of it might be a little violent for some younger readers, older readers, especially boys, will be delighted by the author's quick wit and the story's twists and turns. They will anxiously await the next installment in The Chronicles of Egg. --Stephanie Anderson (aka Bookavore), manager of WORD bookstore