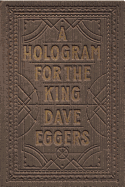 A Hologram for the King is a plunge into the contradictions of Saudi Arabian life. It centers on Alan Clay, a one-man consulting firm traveling to King Abdullah Economic City as a representative of Reliant, the largest IT supplier in the world, to demonstrate a holographic teleconference system to 85-year-old King Abdullah himself. Alan is frustrated at every turn by broken promises and canceled meetings, while doubting his 54-year-old self (the rest of the IT team are all under 30) and worrying about an ominous lump on his neck.
When Alan accidentally sleeps in on the morning of his first royal appointment, he hires Yousef, a student driver, to rush him to the tent where he and his IT engineers await the no-show king. Yousef is a delightful comic creation, always knowing more than he's expected to know, able to spot the difference between jet lag and a hangover, full of opinions ("You fry anything, it tastes right"), always checking under the hood of the car, though he doesn't know exactly what a car bomb looks like. The bonding between sad, blundering Alan and cheerful Yousef becomes the heart of the novel.
The slight narrative is driven by the effortless clarity of Eggers's spare prose. Waiting for the king to appear is like waiting for Godot, and the long stretches of inactivity transform the younger IT technicians into a ménage a trois while Alan, outsourced and outbid, begins a scary descent into alcoholism.
Unlike Eggers's more passionate works, such as What Is the What and Zeitoun, A Hologram for the King is a heartbreaking character study--a mid-life crisis set in an exotic Middle Eastern setting. --Nick DiMartino