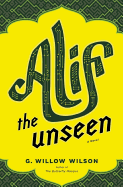 Known for her graphic novels, G. Willow Wilson (Cairo) uses the talent and imagination that garnered her an Eisner Award nomination to great effect in her debut novel, an intriguing mix of fantasy, romance and spirituality wrapped up in cyberthriller packaging.
In an unidentified Muslim security state, a young hacker using the handle Alif--the first letter of the Arabic alphabet--specializes in protecting dissidents, Islamists, bloggers and anyone else willing to hire him from state surveillance. Alif is good at his job, but his private life has taken a sour turn. Intisar, the beautiful aristocratic girl he loves, has broken off their liaison to marry a prince chosen by her family. But when Intisar sends Alif a mysterious book called The Thousand and One Days, rumored to be the djinn-authored companion to The Thousand and One Nights, his love life becomes the least of his worries. Suddenly the elusive entity known to the hackers as the Hand of God catches up to Alif, and he finds himself on the run from the secret police. Along for the ride is Alif's childhood friend Dina, whose constant exasperation with Alif masks a deep affection, and whose cleverness and spiritual conviction will prove a boon. Aided by a brutal and mercurial djinn called Vikram the Vampire and a Western woman who has converted to Islam, Alif and Dina race to stay one step ahead of the Hand. Along the way, Alif tries to unlock the cipher that is The Thousand and One Days, which he believes could change the face of computer technology. But the Hand also knows about the book and will go to any extreme of pursuit, torture or dark magic to possess its secrets.
Don't miss this one-of-a-kind story, both contemporary and as ancient as the Arabian sands. --Jaclyn Fulwood, blogger, Infinite Reads
Read more about Alif the Unseen and G. Willow Wilson in our Maximum Shelf.