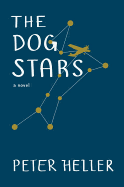 With echoes of Moby Dick and Waiting for Godot, Peter Heller's terrific post-apocalyptic first novel, The Dog Stars, wastes no time introducing everything we need to know about his narrator: "I keep the Beast running. I keep the 100 low lead on tap. I foresee attacks. I am young enough. I am old enough. I used to love to fish for trout more than almost anything. My name is Hig, one name. Big Hig if you need another."
Hig sleeps under the stars alongside the tiny Erie, Colo., airstrip nestled in the crumbling ruins of a suburban development of vacant McMansions. Except for his wily, gun-toting, self-preservationist partner, Bangley, and his last-legs dog, Jasper, Hig is alone. "The flu killed almost everybody," he explains, "then the blood disease killed more. The ones who are left are mostly Not Nice, why we live here on the plain, why I patrol every day." While Bangley gathers his protective arsenal, Hig secures a 1950s Cessna (nicknamed "The Beast") and fuel to reconnoiter from the air. Bangley's motto is "Guilty until--until nothing. Shoot first ask later. Guilty then dead," while Hig is willing to "let a visitor live a minute longer until they prove themselves to be human... because they always do."
Heller brings Melville's broad, contemplative exploration of good and evil to his story and tells it in the spare, often disjunctive, language of Beckett. Heller's vision, however, is not as dark as that of his literary antecedents. --Bruce Jacobs, founding partner, Watermark Books & Cafe, Wichita, Kan.