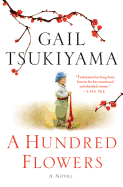 "Let a hundred flowers bloom; let a hundred schools of thought contend." In 1956, Mao Tse-Tung issued an invitation to the people of China, encouraging them to give their frank opinion of the communist government and of how to create a stronger nation. Gail Tsukiyama's A Thousand Flower distills the horrible reality of what happened next through the fictional experience of one Guangzhou family.
Someone in the Lee family writes a letter with concerns about the present and suggestions for a greater China. When the letter is received by Mao's cadre, former professor Sheng Lee is taken away for "re-education." There is never-ending sadness in the household because they know that they may never see Sheng again.
Sheng's wife, Kai Ying, with the assistance of Auntie Song, who lives in a small cottage and keeps a huge garden, does all she can to manage the household despite missing her husband, worrying about her son and being chief caretaker of all. But one day, Sheng's father, Wei, telling no one, boards a train for Luoyang, determined to find his son. He has much to tell him--and much to atone for.
Wei's trip back to Guangzhou, what he has to report and Tao's growth in maturity and understanding are beautifully told as Tsukiyama reminds us (as she has in previous novels) of the solace of family and tradition against a backdrop of guilt and secrets. --Valerie Ryan, Cannon Beach Book Company, Ore.