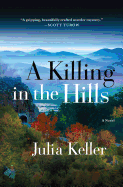 Pulitzer Prize-winning journalist Julia Keller makes her mystery debut with A Killing in the Hills, a love song to her native West Virginia that's as beautiful as it is gritty.
Belfa "Bell" Elkins, prosecuting attorney of Raythune County, already had her work cut out for her as she debated whether to prosecute a mentally handicapped man called Albie Sheets to the fullest extent of the law for the killing of a small boy or lighten the charges in the belief he did not understand his own actions. Now her teenage daughter, Carla, has witnessed the drive-by slaying of three elderly men and is acting more surly and secretive than ever. Believing the triple homicide yet one more symptom of the drug problem that's tearing apart her hometown of Acker's Gap, Bell aggressively pursues the case despite an attempt on her life.
The killer, a disturbed young man who calls himself "Chill" and answers to a shadowy boss, eludes the authorities, but Carla is certain she knows his face if not his name, and she pursues Chill's identity without her mother's knowledge.
Bell Elkins is an appealing heroine, fiercely protective of her family and home and stubborn in her pursuit of justice. The ensemble cast brings a sense of community to the story and gives readers insight into Bell's steadfast determination to preserve the culture of Acker's Gap. With ample loose ends left to begin a second book, readers may justifiably hope to see more of Keller's sure-footed prose and dynamic characters. --Jaclyn Fulwood