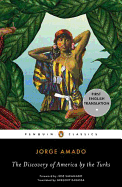 A new English-language translation by Gregory Rabassa of the delightfully titled novella The Discovery of America by the Turks by beloved Brazilian novelist Jorge Amado is cause for rejoicing.
In 1903, Jamil, a young Syrian in his 20s, and Raduan, an older Lebanese man, forge a friendship like brothers, braving the long journey to South America together. Jamil settles in a Brazilian village amid the plantations; Raduan, a charmer in his 50s, in the bigger city nearby, which Jamil visits monthly.
Raduan's old backgammon friend, Ibrahim Jafet, needs help. His wife, who used to run their prosperous dry-goods business, has unexpectedly died and his eldest daughter, Adma, has turned into a frustrated virgin spinster who rules his house with an iron fist. At first, Raduan sets up an ambitious, opportunistic young waiter to marry Adma and run the struggling shop. It sounds like the perfect plan. But then Jamil arrives in town, and Raduan--a gambler who loves "the game of destiny... in which the cards are human beings and the bets are for life itself"--realizes that whoever marries the virtuous but tyrannical Adma will have all his financial problems solved.
Amado's irresistible human palette, like Brazil itself, contains every color, race and ethnicity, from ultra-rich plantation owners to the wretches who labor in the fields. Even in a work as short and condensed as this, there are more than 40 named characters, most of whom Amado brings to life with just a few short strokes. The ending is delightful, unexpected and thoroughly satisfying. --Nick DiMartino, Nick's Picks, University Book Store, Seattle