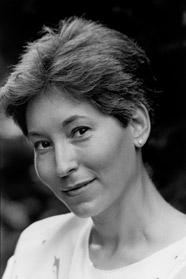 Novelist Elinor Lipman (Then She Found Me, The Inn at Lake Devine, The Family Man) has been called "a modern-day Jane Austen," for her witty social satire, but in her new project she leaps beyond the one-eyebrow-raised subtleties of her characters' antics, composing and sending a tweet a day until the November 6, 2012, election. In just 140 characters, Lipman's political position is clear. And the upside-down elephant icons in Tweet Land of Liberty: Irreverent Rhymes from the Political Circus (Beacon Press) only underscore her up-to-the-hour take on the news. Where else can you find a poem rhyming "Netanyahu" with "Mitt-view?" Follow Lipman on Twitter and Facebook.
How did you decide to start the tweet project?
On impulse! There's something like tweet pressure in the air when you're an author--with Twitter giants like Susan Orlean--so I thought it was time to get on the bus. After one newsy tweet to my zero followers, I thought, I know! One rhyming political tweet a day until the 2012 election! I'll enjoy that more than anything. I should've done the math and realized that meant 499 days....
Have you ever seriously regretted it?
No. Especially not now with Tweet Land of Liberty. After Beacon Press asked to publish the tweets, I walked around thinking, Too good to be true. Did I dream this? Though on many days I've regretted the seven-day-a-week pledge, mainly because of the weekend news vacuum.
How long does it take to write a tweet that rhymes, has perfect meter, relies on facts and is entertaining?
The shortest* took only a few minutes due to a dual gift of topic and rhymeability, but I've taken two-plus hours for some, and that's usually attributable to nothing much happening. Also, I don't want near-rhymes or tortured phrases or--truly unforgiveable--lines that don't scan. And then there's the 140-character limit, though, after 13 months, I seem to hit the right length without much pinching.
*Bit by penguin at a zoo/ What's a candidate to do?/ Soon the bird wrote in his blog/ "Newt tastes like an underdog."
Do you think you're preaching, er, tweeting to the choir, or possibly enlightening some voters? Perhaps drawing apolitical readers in to the political discussion?
Guilty as charged, tweeting to the choir. I do admit to being a Yellow-Dog Democrat, but hail to my favorite Republicans, without whom I'd have few subjects and no objects of derision. I'm not going to convert Rush Limbaugh, but maybe some fence-sitters can be won over with humor. Or with poetry.
Do you think your tweets offer people frustrated by politics a satisfying way to feel less alone in their angst?
Yes! I'm going to adopt that as my slogan. Thank you. But seriously, when readers say that about my novels--that they make them feel less alone--I take it as the highest compliment.
Have you alienated any conservative acquaintances?
Probably. Sometimes Facebook friends write a rebuttal, but not as often as you'd think. A few took offense when I had a little fun with "dressage," but I remind myself before I post something a little edgier--using the words "douche" and "vaginas" come to mind--that it's the Twitterverse and I shouldn't be a sissy.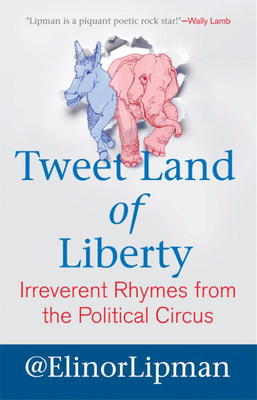 Your tweets seemed to be evenly divided among the Republican candidates during the primaries. Was that in fact true or did someone lead in tweet-ability?
Oh yes, tweet-ability was my guide. Plus ridiculousness. I tried not to write several tweets in a row about the same person, but who could resist Bachmann, Cain and Gingrich? Santorum was great, too, and surprisingly easy to rhyme. One of my most popular tweets rhymed Santorum with Purim. I miss them all.
How often do you tweet about a non-political news item? You occasionally digress ("Are You There, God? It's me, Tim Tebow" comes to mind.) Is this a conscious effort to take a break?
It's usually because a nonpolitical topic is in the headlines, and it would seem off the mark and clueless to ignore it. I wrote three in a row about the murders in Aurora.
How many have you written so far?
July 29th marked number 400. I took off only Yom Kippur.
What would be the dream political situation about which you would love to tweet?
A Romney affair.
Your readers know you as a wonderful fiction writer and essayist. As a writer, is tweeting more or less satisfying than writing books or newspaper pieces?
Thank you. I get instant responses and therefore instant gratification in tweeting. And it's even self-gratification when I hit on the right word or phrase that completes the day's rhyme. In fact, that's when I know a rhyme is ready to post, when I allow myself a smile. And to have them collected in a book, to be found worthy of that, not just for the amusement of political junkies, has been the most fun an author could have.
Is your next novel, The View from Penthouse B, due next May, at all political?
It's not political, but it's a little autobiographical--which I am surprised to hear myself admit. My agent calls it my "recession comedy" so it's certainly topical. Wait; make that topical-slash-romantic.
Are the upside-down elephant icons significant?
Yes, they appear after a GOP candidate quits the race. And a kicking donkey appears when there's good news from the other side--such as immigration, gay marriage, repeal of don't-ask-don't-tell. I think I'm tipping my hand here. My son says--fondly, I'm sure--that I'm a knee-jerk liberal.
Any chance you'll keep tweeting after you've fulfilled your pledge, November 6, 2012?
I'll definitely keep tweeting after the election; just not seven freaking days a week. Only a crazy person would do that....
Whom do you follow on Twitter?
Politico.com writers, MSNBC anchors, Washington Post and New York Times columnists, author friends, my son, my nephew, political sites, White House sites, candidates, comedians, Masterpiece Theatre and Callista Gingrich. --Cheryl Krocker McKeon, bookseller