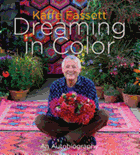 Renowned artist and designer Kaffee Fassett connects with readers in Dreaming in Color. Through storytelling about images of his early paintings, illustrations, hand-knitting, fabric design, quilts, needlework and so much more, he re-creates his bohemian childhood in Big Sur, Calif., his world travels and his forays into every kind of creative design.
His parents bought a cabin from Orson Welles in the 1930s and transformed it into the world-famous Nepenthe restaurant. Kaffe and his siblings lived outdoors as much as inside; his childhood was not one of cosseted overprotection. He was allowed to roam the acreage, encouraged to help the workmen and learned to work with his hands as an artist, an artisan and a craftsman.
He attended a boarding school run by disciples of Krishmamurti, studied painting at the School of the Museum of Fine Arts in Boston and then traveled to England. From this eclectic background came his fascination with design, whether in needlepoint or mosaic, tapestry or rugmaking, costume and set design or quilting. His journeys around the world inspired him to create different patterns, to use dyes and colors in unusual ways. He is the first living textile designer to have a one-person show at the Victoria and Albert Museum in London.
Dreaming in Color, illustrated with 500 color pictures, is a feast for the eyes. The text, filling in the story of his life, is straightforward, with a conversational tone, giving credit to those people and events that inspired him--but always, first and foremost, filled with the color and drama that are Kaffe Fassett. --Valerie Ryan, Cannon Beach Book Company, Ore.