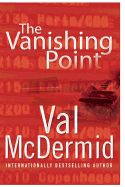 Val McDermid gives her series characters a hiatus in The Vanishing Point, a stand-alone thriller that kicks off with a kidnapping in Chicago's O'Hare airport. Stephanie Harker has been a parent for only nine months. The ghostwriter for Scarlett Higgins, a British reality TV star, she reluctantly fell into the role of parent when Scarlett, dying of cancer, named Stephanie young Jimmy's guardian.
Alternating between the present investigation and flashbacks where Stephanie relates the history of her relationship with Scarlett, the bizarre world of the pseudo-celebrity takes shape. But McDermid presents an enchanting character in Scarlett that conflicts with the popular stereotypes about reality TV celebrities. She is in no way high society, but she's smart, ambitious and dedicated.
In traditional McDermid style, the plot of The Vanishing Point is riveting. Well-placed red herrings and twists keep the energy level high throughout, and the story engages readers in ideas and issues beyond the pursuit of the villain. McDermid is skilled at developing themes such as what defines a parent, or the differences between British and Americans, as part of the mechanism that drives the plot; this makes her work exceptional.
The Vanishing Point's tone is not as dark as many of McDermid's recent novels, but the intensity, the depth and the caliber of the content is as good if not better than anything she's written to date. This is a great introduction to Val McDermid for new readers and a criminal treat for established fans. --Jen Forbus of Jen's Book Thoughts