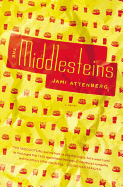 Edie, the matriarch of The Middlesteins, can't stop eating, and Jami Attenberg (The Kept Man) weaves an entire novel around how Edie's marathon gorging breaks her family apart. Despite her severe diabetes, Edie, some 350 lbs., persists--she goes from McDonald's to Burger King to dinner at a Chinese restaurant, followed by a raid on the refrigerator when she gets home. One day, Edie's husband, Richard, after more than 30 years of marriage, announces he's leaving her.
Richard and Edie's two children, Benny and Robin, are horrified at their father's behavior. Robin cannot believe her father would leave his ailing wife; Benny's wife, Rachelle, a pencil-thin perfectionist, wants to save Edie. Part of her plan is to eat healthily in her own home, until a nasty incident involving kale leads to her own daughter falling off the roof in an attempt to get out of the house.
Clues abound as to what Edie's mothering has done to her children's lives. Benny is an affable, pot-smoking, don't-make-waves guy who visits his father occasionally but doesn't want to cross Rachelle. Robin is furious, a knot of anger who drinks too much and is afraid to admit that she is falling in love with her downstairs neighbor, Daniel.
Attenberg mines every bit of humor, sadness, poignancy and pathos possible from the story, switching voices and perspectives and skipping back and forth in time. The Middlesteins masterfully reveals the emotional landscape of one family's unusual connections and disconnections--and allows the hope that different connections may take place. Just another quirky family story? Anything but. --Valerie Ryan, Cannon Beach Book Company, Ore.