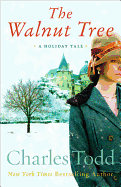 In The Walnut Tree, Charles Todd--the mother-son writing team behind the popular Ian Rutledge and Bess Crawford mystery series--turns to romance, with a story that shares the same First World War setting as their earlier books, including a tangential reference to Bess Crawford herself.
The book opens as war begins, and Lady Elspeth Douglas finds herself trapped in Paris. Her almost-fiancé, the gallant Alain, is off with the French army, and Elspeth feels compelled to return to England and be of service. As she attempts to reach Calais, she gets drawn into a battle and is rescued by handsome Captain Peter Gilchrist, a childhood acquaintance.
With Peter's aid, Elspeth eventually makes it back to England; against her guardian's wishes, she begins training as a nurse. Abandoning her title and privileged lifestyle, Elspeth serves as a regular member of the service. Nursing takes her to bloody field hospitals in France, back to England accompanying injured men, then to her ancestral home in Scotland and eventually to Sussex, where stands an old, beloved walnut tree. Along the way, Elspeth learns eye-opening lessons about class, society and coping. And she'll have to choose between the dashing Alain and the dependable Peter.
The Walnut Tree is a sweet, simple little book--a perfect holiday tale to read with a mug of hot cocoa (and a must-read for Downton Abbey fans). It conjures up an earlier time, a genteel era obliterated by the onslaught of war. --Jessica Howard, blogger at Quirky Bookworm