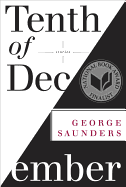 There are times when our world seems so strange no fiction writer can capture its essential weirdness. Then George Saunders publishes a collection of stories like Tenth of December and we realize we'll always need writers like him to look obliquely at what we think of as real life and help us grasp it in all its absurd beauty.
Saunders's satiric gifts are on full display in "Escape from Spiderhead," where prisoners participate in a diabolical drug experiment that's all about the intersection of lust and violence. The book's longest story, the novella-length "The Semplica Girl Diaries," is likewise a send-up of our debt-ridden materialism. The narrator wins $10,000 on an instant lottery ticket. Wanting to impress his children, he orders four "Semplica Girls," young immigrants from countries like Somalia who are hung by a surgically implanted microline as backyard ornaments. His youngest daughter's impulsive reaction ends the story on a note of grace.
The lives of an endangered boy and a middle-aged cancer victim who's gone into the frozen woods to commit suicide intersect dramatically in "Tenth of December," giving the older man reason to rethink his choice. "Home" is the story of a soldier who's returned from war in the Middle East with a Silver Star and the stigma of participating in some unspecified atrocity.
Saunders has the assurance to drop readers into the middle of his stories with the confidence we'll get our bearings soon enough.
In an interview with the New Yorker, Saunders observed that "the artist's job is to be a conduit for mystery." He's done that admirably here without sacrificing the real human feeling that infuses these distinctive stories. --Harvey Freedenberg, attorney and freelance reviewer