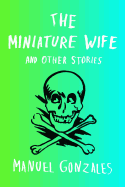 Zombies, werewolves, a unicorn, sinking continents, a Lilliputian wife... no subject seems out of bounds for Manuel Gonzales in his superb first collection of stories, The Miniature Wife. Call his work magical realism, science fiction or just plain storytelling--it works. The secret may be the first-person voice narrating most of the stories: a self-deprecating, amused, often puzzled voice. No matter how outlandish the premise, each story seems perfectly plausible. Yet within these tall tales, Gonzales also explores very real modern dilemmas.
The opening story, "Pilot, Copilot, Writer," establishes a typical disorienting template for those that follow. A commercial airline flight inexplicably begins to circle Dallas. After the passengers exhaust conversation, the pilot explains that there is no destination or arrival time. The flight goes on for 20 years: passengers die; a child is born and learns to copilot the plane, replacing the pilot when he dies. The narrator wonders about their futures should the plane ever land: "Is twenty years long enough to wipe away bad marriages, poor career choices, too many long hours spent following someone else's dreams?"
Gonzales never loses his stride as the stories jump forward, and he pulls the reader effortlessly along with him all the way through to the concluding "Escape from the Mall," where the narrator confronts zombie carnage and asks: "But to make him one of their own, how much brain would a zombie need to eat? Not much by my reckoning." So it is with these weirdly comforting stories. We need eat just a bit to be sucked into Gonzales's world. --Bruce Jacobs, founding partner, Watermark Books & Cafe, Wichita, Kan.