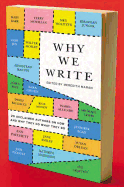 Meredith Maran's Why We Write contains 20 compact profiles of contemporary authors of a certain age. It's an eclectic chocolate box of success stories, ranging from Armistead Maupin to Michael Lewis, from Ann Patchett to Jodi Picoult. All the subjects are famous, none of them are young and at least two are notorious--but each one appears to have answered Maran's questions about the evolution of their careers with a candor that will be edifying to both the curious and the aspiring. Perhaps their cooperation was motivated by philanthropy: as Maran notes, a portion of the book's proceeds will benefit 826 National, Dave Eggers's network of youth literacy centers.
Each chapter begins with an excerpt from the author's work and an introduction, followed by a mixture of odd biographical tidbits grouped alongside useful online resources and "The Collected Works." Then comes the cherry center: the author's frank responses to Maran's questions about writing process and career progress. The profiles conclude with each author's "Writing Wisdom"--a bullet-point list of craft and motivational advice. All that's missing is the name of their agents (perhaps to protect the besieged).

The profiles are presented alphabetically. "David Baldacci's Wisdom for Writers" is followed by an excerpt from Jennifer Egan's A Visit from the Goon Squad. Best to consume Why We Write as you would a box of rich chocolates, savoring each flavor in isolation. --Holloway McCandless, blogger at Litagogo.com.