At the highest watermark of graphic novels, only Marjane Satrapi's Persepolis and Alison Bechdel's Fun Home share space with the gorgeous and deliciously fun Aya chronicles from Drawn and Quarterly, written by Marguerite Abouet and illustrated by Clément Oubrerie. Like the Botswana mysteries of Alexander McCall Smith, the Aya books celebrate the everyday, realistic joys of African life, and though the super-rich and super-poor find themselves uncomfortably thrown together, the politics are always human ones.
The initial volume, Aya, released in 2007, focuses on three teenage girlfriends--Aya, Bintou and Adjoua--growing up in Yop City, a working-class neighborhood of Abidjan on the Ivory Coast. Adjoua discovers she's pregnant and blames Bintou's rich boyfriend, resulting in a forced wedding; then, the baby is born looking very much like... someone else.
The sequel the following year, Aya of Yop City, has Aya continuing to study for college, lovingly tending Adjoua's child, teaching Bintou's gawky cousin to read so he can go to school, training the family maid to enter the local beauty contest, and discovering that her father has another wife and kids.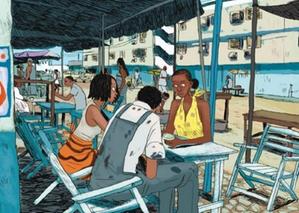 The third volume, Aya: The Secrets Come Out, published in hardcover in 2009, features the climactic Miss Youpougon Beauty Pageant, a number of fathers doing the wrong thing, and two gay friends planning an escape, ending in a multi-decker cliffhanger in which all the plot threads seem to be flying out of control.
All three of these original hardcovers were combined into a handsome, single-volume trade paperback, Aya: Life in Yop City ($24.95), the usual Drawn and Quarterly first-class production, and are now joined by a new paperback, Aya: Love in Yop City ($24.95), with three all-new installments of Aya's story.

Marguerite Abouet lived in Abidjan, Ivory Coast, for the first 12 years of her life, then moved to Paris, where she collaborates with her French illustrator husband, Clément Oubrerie, to bring the characters of her childhood to life. This new collection plunges favorite characters into new dilemmas, bringing together unlikely allies and picking up more than a dozen previous plot threads--gay hairdresser Innocent is now a homeless immigrant in Paris; Bintou is stalking the powerful medical professor whose sexual advances Aya has rebuffed--all building to one of the series' trademark surprises. Abouet and Oubrerie are masters at teasing. Unidentified characters creep through the shadows of the Thousand Star Hotel, mistaking each other and discovering each other. The shenanigans are pure farce, brought to life with just enough reality.
Oubrerie's nimble, effortless drawing captures myriad facial expressions. Top that off with his luscious African color palette, and you have a teenage soap opera captured by art that occasionally opens up into full-page spreads ablaze with daring, dynamic colorwork.
Dozens of individualized characters crowd these pages--in particular, four very different young women embarking on their lives, complicated by well-meaning, misunderstanding parents with their own problems. Marguerite Abouet and Clement Oubrerie deliver a tale that's perpetually surprising and animated by genuinely likable characters--a domestic epic splattered with sun-scorched color. --Nick DiMartino, Nick's Picks, University Book Store, Seattle, Wash.