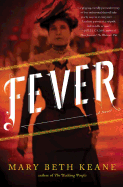 In 1883, Mary Mallon's grandmother saved enough money to send her from Ireland to New York City. Fourteen years later, Mallon was incarcerated by the city's health department as an asymptomatic carrier of the typhoid pathogen--and was forever after known as Typhoid Mary. Mary Beth Keane (one of the National Book Foundation's 2011 "5 under 35" honorees) tells Mary's story in Fever, a novel as rich in drama and the turn-of-the-20th-century atmosphere of New York as Erik Larson's The Devil in the White City is of Chicago.

Mary came to the U.S. with nothing but her knack for cooking. As Keane tells the story, that came from her grandmother, who taught her early on "the best way to tuck the turnips and potatoes around the meat." With such skills, the feisty Mary made her way through the best kitchens in the city and suburbs. Unfortunately, she left a trail of typhoid victims in every household--until a relentless investigator hired by one of her employers collected enough evidence for the city to lock her up without trial or recourse.

Keane's story of Typhoid Mary's life, culminating in her death at an isolated quarantine hospital on North Brother Island in New York City, is part science mystery, part love story, part legal thriller--but, finally, just a damn good novel. "They blamed her because she was opinionated," Keane writes, "and Irish, and unmarried, and didn't bow to them." Now that's a character to build a story around. --Bruce Jacobs, founding partner, Watermark Books & Cafe, Wichita, Kan.