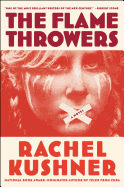 In The Flamethrowers, a novel dense with stories and storytellers, Rachel Kushner (her debut was the National Book Award-nominated Telex from Cuba) visits 1977 as it plays out in New York City's downtown art scene and Italy's violent workers' rebellions. At the nexus of these disparate worlds are the young narrator, Reno and her lover Sandro Valera, an artist and estranged heir to the wealthy founding family of an Italian tire and motorcycle manufacturer.

Hoping to become a filmmaker, Reno moves to New York and stumbles into a job as a "skin tone model," her anonymous face clipped into films for editors to set their color spectrum--an apt metaphor for Kushner's view of the artist's role. She drifts among artists, Mulberry Street mafia and disillusioned '60s radicals. Her waifish innocence attracts Sandro, with his paternal attention, money and connected friends.

Reno's youthful fantasy ends when she visits Italy and the Red Brigade calls a violent strike at the factory. Confronted with the Valeras' petty profligacy and Sandro's philandering, she runs off to Rome with the family's politically radical chauffeur. When Reno returns to New York, she gets caught in the 1977 blackout, when the city erupts in looting and violence.

In this pivotal year of global discontent, Kushner sees the seeds of the future; in Reno, she has created the memorable voice of an unfocused young woman who creates art from the pieces of her own life. As Reno reflects, "It was half art and half life, and from there, I felt something would emerge." In Kushner's case, what has emerged is a remarkable novel, rich in detail and broad in scope. --Bruce Jacobs, founding partner, Watermark Books & Cafe, Wichita, Kan.