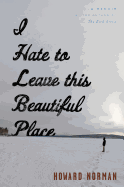 Howard Norman writes in several genres: books for young readers, translated folk tales, scholarly essays and, perhaps most recognizably, novels such as The Bird Artist. I Hate to Leave this Beautiful Place is yet another departure. It's a memoir--but, this being Howard Norman, it's no ordinary memoir. Norman captures five incidents in his life, watershed moments of "arresting strangeness." Far from being an overstatement, those words prove mild once the reader considers some of the events.

The first recollection takes place when Norman is 15, enamored of his brother's girlfriend and working in a bookmobile. His mostly absent father, having told the family he is in California, is hanging out in a drugstore across the street from one of the bookmobile stops. Norman wins $666 in a random radio contest; his father immediately seeks him out for his "share." About the girlfriend, the less said the better.

The final recollection is very sad. Norman and his wife allow a friend to stay in their D.C. home while they spend time in their Vermont farmhouse, about which he says: "Everything I love most happens most every day." While in their home, the woman brutally kills her young son and herself in their dining room. This horrendous act eventually causes Norman to seek solace among his beloved birds--this time in Point Reyes, Calif.

Each recollection is serious, poignant, filled with meaning for Norman and, in turn, for the reader. What isn't said tells us as much as what is--and all of it is important in order for us to begin to understand this complex, extraordinarily sensitive, caring man and writer. --Valerie Ryan, Cannon Beach Book Company, Ore.