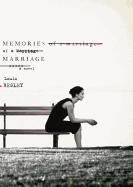 In 1950s Newport, R.I., well-born Lucy De Bourgh marries Thomas Snow, son of a local garage owner and his bookkeeper wife. Thomas is definitely from the wrong side of the tracks, a theme that Louis Begley explores thoroughly in Memories of a Marriage, an intensely intimate portrayal of a couple from several perspectives.

Philip narrates the story of Lucy and Thomas. He runs into her at the ballet one evening and recalls knowing her many years before--she was a hell-raiser, and free with her sexual favors. They agree to meet for dinner at her apartment.

Early in their conversation, Lucy offers condolences to Philip for his wife's death; he reciprocates with condolences for her divorce and Thomas's subsequent accidental death. "What do you mean?" Lucy replies. "I couldn't have gone on living with that monster. You went on seeing him, of course, just like all the rest of my friends. Yup, everything he wanted fell into his lap, including that celebrity second wife, and he never acknowledged that he owed it all to me."

Philip is puzzled by her bitterness and unfairness to Thomas, a good-looking, brilliant investment banker who became a Wall Street pundit. Philip becomes obsessed with the contradictions in the story, both as a friend of Lucy and Thomas--and more particularly as an author sussing out a good story. He seeks out Thomas's second wife, Jane, and several mutual friends to get their recollections of what happened. The picture that emerges is infinitely complex, leading Philip to understand how incompletely he knew the pair--or their marriage. --Valerie Ryan, Cannon Beach Book Company, Ore.