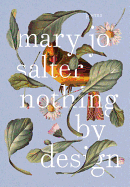 Mary Jo Salter can move easily within the formal confines of meter and rhyme without losing her taste for the colloquial--or even a contemporary near rhyme of Gogol and Google. She can also break structure with equal aplomb, as in "Unbroken Music," a moving tribute to poet Amy Clampitt that mixes snippets from Clampitt's poems and journals into a reflective meditation on a visit to Italy. But Salter's uncanny sense of the sounds of poetry is always present--just listen to this description of bas-relief Egyptian tomb servants:

"A woman of stone grinding grain,
as she would have, on a quern of stone.
A woman winnowing grain in a pan.
Another on her knees, kneading.
A brewer mashing a vat of beer,
a butcher slitting the throat
of a heifer for the hereafter."
Salter's career of distinguished teaching and writing doesn't detract from her playful whimsy. Among its more serious poems, Nothing by Design scatters several light verses, like the "meditation upon 'The Waste Land' " called "T.S. Lightweight and Ezra Profound":

"Give Ezra his due credit
for that amazing edit.
Still, T.S. is the one who said it."

...or "Edna St. Vincent, M.F.A.," which describes Millay as "the worst/ sometimes-excellent poet in history."
This is the rare poetry collection that might be described as a "page turner." Nothing by Design strings together seemingly disparate poems with more design than the title implies. As Salter says in "Crusoe's Footprint": "No man is an island; we're more like the Florida Keys." --Bruce Jacobs, founding partner, Watermark Books & Cafe, Wichita, Kan.