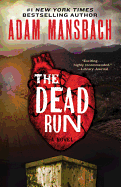 The Mexican-American borderlands of Adam Mansbach's The Dead Run are crawling with crooked cops, religious fanatics, drug runners and rogue motorcycle gangs, but the story isn't driven by drug cartel atrocities so much as the Aztec god Tezcatlipoca's plan to reclaim the continent from the Christian invaders. The novel kicks off with an eerie meeting between border smuggler Jesse Galvan and El Cucuy, a much feared and mysterious 500-year-old Aztec priest, in the secret tunnels underneath Ojos Negros Prison. Cucuy springs Galvan to shepherd a package across the border to Cucuy's son Aaron Seth, who runs a sham religious commune on the Texas side of the river.

Not until too late does Galvan look inside and find the beating heart of a virgin. Aztec prophecy maintains the high priest can pass on his powers only to a son who ingests the living heart of a pure woman--and if Galvan doesn't deliver, Cucuy's son will kill his estranged daughter, Sherry, and consume her heart instead. Galvan is a crude but big-hearted hero who doesn't understand the bizarre Aztec mythology and has only a vague idea of what happens "if this Aaron Seth peckerwood eats his Happy Meal and turns into a god," but he knows evil when he sees it and loves his daughter--and that's enough.

The Dead Run is irreverent and entertaining, a wild high-speed ride across centuries and cultures, through the mystical supernatural and the very real "missing women of Juarez" that, eventually, comes to an ambivalent happy ending. --Bruce Jacobs, founding partner, Watermark Books & Cafe, Wichita, Kan.