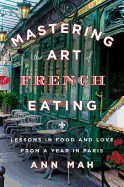 Ann Mah and her diplomat husband, Calvin, lived in New York, Beijing and Washington, D.C., during the few years they'd been married. Then, in 2008, Calvin got a dream posting: three years in Paris. Ecstatically, they packed their belongings, only to have Calvin sent onward for a year's posting in Baghdad. Because of the dangers there, Ann wasn't allowed to accompany him, and found herself alone in Paris.

Like Julia Child, another diplomat's wife, Ann decided to spend her year learning about the history of French cuisine by taking a series of excursions around France in search of famous regional dishes. She devours crêpes in Brittany, boeuf bourguignon in Burgundy, fondue in Haute-Savoie, soupe au pistou in Provence.

Along the way, Mah learns how hard it is to live alone, perfects her French, starts to make friends and creates a solid career of her own (to escape the feeling that she's merely following Calvin around the world).
Mastering the Art of French Eating is chock-full of delicious recipes, luscious descriptions of the French countryside and fascinating glimpses into Ann's background and personal life. Her Chinese-American perspective on French culture makes for interesting insights, and her love of cooking and food shine through the pages of the book. Armchair travelers and foodies alike will enjoy Mastering the Art of French Eating. --Jessica Howard, blogger at Quirky Bookworm