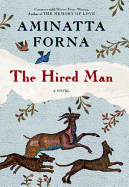 In the opening scene of Aminatta Forna's The Hired Man, Duro is out hunting when he notices a newish car approaching the small Croatian village of Gost. An Englishwoman has come to live in the old Pavic house, with her hostile teenage son and homely younger daughter. Duro is hired to clean the gutters, patch the roof, cut down the dead tree; he becomes indispensable. Stoic and single-minded, Duro is the kind of man you feel you can trust.

As Duro and the girl slowly restore an elaborate mosaic mysteriously plastered over on the side of the Pavic house, though, waves of hostility ripple through Gost and old grudges resurface. The most furious are Fabjan, the owner of the Zodijak café, who has bullied and manipulated the fortunes of Gost for decades, and Duro's former friend Kresimir, whose ruthless treachery has left scars on the whole town.

Forna, whose previous novel The Memory of Love won the 2011 Commonwealth Prize, has created a convincing narrator in Duro, an uneducated but well-meaning Croatian with a clear sense of life and the truth. His unpretentious and perceptive voice is one of the novel's key pleasures.

Forna's characters reveal their secrets gradually, like the mosaic that is slowly exposed. The war scenes are quietly horrific; Forna humanizes her victims, which makes their deaths excruciating without being graphic. This is literature with a punch, a perfectly contrived artifice examining the unhealed festering wounds of wartime, in which Forna takes the Croatian nightmare and brings it to life as her own. --Nick DiMartino, Nick's Picks, University Book Store, Seattle, Wash.