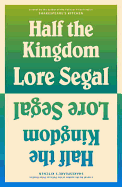 Half the Kingdom is a tour de force for Lore Segal, the 85-year-old novelist and Pulitzer finalist (for 2007's Shakespeare's Kitchen). It can be appreciated from several points of view: as a serious indictment of the American medical system, a scathing commentary on the marginalization of the elderly or a sendup of sociological and medical "studies." It is all of the above--and a wicked good story as well.

Doctors at a Manhattan hospital have noticed a strange increase in patients presenting with Alzheimer's or dementia. Is it coincidence or a terrorist plot? The phenomenon must be investigated, and none better than Joe Bernstine to lead the study.

Joe, who's returned to New York with his wife, Jenny, after retiring from a Connecticut think tank, is currently concerned about end-of-the-world scenarios--concerned to the point of paranoia. He enlists his daughter, Bethy, and Benedict, the son of an old friend, to work with him. Computer whiz Al Lesser is the next hire; Lucy, an emphysemic, "barely e-mail literate" 75-year-old, rounds out the team.

Each of these characters has a story--as do all the patients they are interviewing--and Segal combines laughter and tears, pathos, real tragedy and comic relief in everyone's scenario. She never trivializes or makes fun of the very real pain and confusion these people are feeling. As meetings are called and canceled, medication given and withheld, all these disparate lives converge in the hospital's ER.

Segal's novel is a beautiful, down-to-earth tragicomic meditation on age, failing powers and the loss that comes to all of us. --Valerie Ryan, Cannon Beach Book Company, Ore.