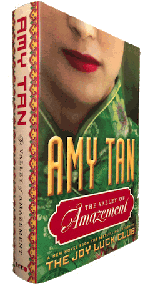 "You must learn all the arts of enticement," a veteran courtesan advises Violet Minturn in The Valley of Amazement. Successful courtesans seduce not just with beauty but with words, as Amy Tan does in this beguiling, gorgeously written novel, her first in eight years. An adventure-filled story of family and friendship, fate and forgiveness, decisions and consequences, The Valley of Amazement spans four decades and takes readers from the inner chambers of a Shanghai courtesan house and the remote mountains of China to San Francisco and New York's Hudson Valley. At the novel's heart is a cast of female characters fiercely, bravely making their way in a world where they're often at the mercy of men.
The daughter of the only white woman to own a first-class courtesan house in early 20th-century Shanghai, Violet--who inherited her mother Lulu's brown hair and green eyes--has grown up believing her parents were both American and that her father is deceased. "When I was seven, I knew exactly who I was: a thoroughly American girl in race, manners, and speech," she declares in the novel's opening line. When a courtesan spitefully reveals the truth about her lineage, Violet is shocked and dismayed to learn she is half-Chinese, a revelation that leaves her suspended between two cultures. As she struggles with her dual identity, she begins to doubt her mother, questioning why Lulu would have hidden the truth if she weren't ashamed of her daughter's Chinese blood and wondering what else she is hiding.
Like Tan has done so compellingly in previous works, including her debut novel, The Joy Luck Club, she treads into the always intriguing territory of mother-daughter ties. Despite the misunderstandings and cultural divide that cloud Violet's relationship with Lulu, she discovers it's a bond that is inescapable even after their paths diverge.
Lulu has a say early in the story, shedding light on her unusual place in Shanghai society. She "broke taboo rather extravagantly" by opening a courtesan house, Hidden Jade Path, that caters to both Chinese and Western clientele, many of whom are wealthy players in foreign trade. In addition to providing pleasures of the flesh to patrons, she is sought after for the connections she brokers among businessmen. Readers don't hear directly from Lulu again for more than a decade, as the story follows Violet on a harrowing, heartrending journey. Through the cruel deception of one of Lulu's former lovers, Lulu is sent sailing for San Francisco solo while teenaged Violet is sold to a Shanghai courtesan house. Told by a trusted source that her daughter is dead, Lulu never returns to search for her.
Held against her will, Violet is forced into her mother's former trade and groomed to be a courtesan. Scared, angry and helpless, she finds an unexpected ally in Magic Gourd, an older woman who used to work at Hidden Jade Path and who becomes her mentor and close friend. Out of necessity Violet transforms from a petulant adolescent into a highly popular courtesan and savvy businesswoman.
When Violet later falls in love with Edward, the married American heir to an international shipping conglomerate, and becomes pregnant, she leaves the courtesan life for domesticity. Her bliss is short-lived, and the family she has found shatters, when she loses Edward to illness and her child to circumstance. Much like her mother years earlier, she makes an error in judgment that leads to her three-year-old daughter, Flora, being spirited away. Seeking to support herself, Violet returns to her previous profession. But age is a courtesan's dreaded enemy, and when a lover proposes, she agrees to marry him, grasping at what she sees as a last chance for respectability and a stable future. Instead she finds herself in an arduous situation during which she makes a vow to herself: if she makes it out alive, she will find Flora and get her back.
Both Violet and Lulu engender admiration for their gutsy determination, strength in challenging circumstances and ability to reinvent themselves, while other times they infuriate with reckless behavior and misguided choices. Tan takes her time reuniting the two women, who resume their relationship through correspondence after Violet--knowing what it's like to lose a daughter--softens her long-held resentment toward her mother for abandoning her, letting her know she is alive and asking for her help locating Flora.
Tan's fans will likely find The Valley of Amazement well worth the wait. A feast of a novel at 600 pages, it rarely loses its grip on the reader. Being immersed in the vividly told tale is a deeply felt experience--laughing at a little girl's antics, heart pounding as a mother flees with her child in her arms, flinching as a fist delivers a blow. Tan deftly draws the reader along as she explores the nature of identity, the joys and pitfalls of love, the ripple effects of the choices we make and the role of fate in our lives.
"I'm not saying fate happens without blame. But when fate turns out well, everyone should forget the bad road that got us here," a character advises in The Valley of Amazement. Years of complicated circumstances can't be undone, though, and Violet ultimately comes to a crossroads, faced with deciding whether her future lies in China or America--and with whom. Like her life, this story is bittersweet. --Shannon McKenna Schmidt