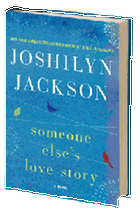 Since her debut novel, gods in Alabama, Joshilyn Jackson (A Grown-Up Kind of Pretty) has made a name for herself with a signature blend of offbeat humor, family-driven plots, strong heroines, and a soupçon of Southern grace. In her newest novel, Jackson is in top form with a quirky but deeply felt fusion of two storylines that explore the ways our lives are shaped by different types of love.
Twenty-one-year-old Shandi Pierce always thought "Love stories started with a kiss or a meet-cute, not with someone getting shot in a gas station minimart." When she and her adorable, brilliant three-year-old son, Natty, are caught in a convenience store robbery and saved by a man she swears is the spitting image of "the great god Thor," Shandi quickly changes her tune. A firm believer in miracles, Shandi is convinced she and the "Norse godling" have crossed paths because they are destined to be together. Just like that, Shandi is in love.
However, while William Ashe may look like Thor, he's all too human. Although he's a magnificent physical specimen and a brilliant geneticist, William also has qualities associated with the high-functioning end of the autism spectrum, such as trouble relating to emotional matters and a strong tendency to frame the world in logic and numbers. Currently, he's trying to cope with the loss of his wife and two-year-old daughter in an auto accident, a crisis that would faze even the most emotionally aware of people. William sees the robbery as an opportunity to seize his "destiny, this shorthand word that means nothing beyond the strength of his own will." Where Shandi sees the hand of fate, William sees the chance to escape his pain.
Once outside the microcosm of the robbery, Shandi and William each slowly realize they must come to grips with their personal demons. For Shandi, that means admitting to herself that although she cannot remember Natty's conception, it wasn't an immaculate miracle as she's convinced herself to believe, but rape. If she wants to own her past, Shandi knows she has to find out the truth behind Natty's paternity, and William's skills as a geneticist are just what the doctor ordered. At the same time, she's navigating her new feelings for William and living alone for the first time, having just moved into her own condo after getting tired of living with her well-meaning but social life–destroying mother.
After failing at suicide by robber, William finds himself once again grappling with grief for his wife, Bridget, the love of his life since high school. In carefully parceled flashbacks, Jackson slowly reveals their halting but passionate love story, its forward momentum helped along by their sassy mutual friend Paula but constantly impeded by Bridget's deep and sustaining Catholic faith colliding with William's equally strong conviction that God doesn't exist. That they eventually overcome their differences is made almost painfully bittersweet by the reader's foreknowledge of where their love story will eventually lead William and by the futility of Shandi's feelings for him. How can she hope to measure up to the epic love story William already lived?
Shandi and William make perfect foils for each other, her naïveté and openness a candy-colored contrast to his gray cynicism. Where he is a solid wall of logic and analytics--"In families, he realized, children are added to, not superseded.... Wives are structured differently"--she is a straightforward bolt of action: "He was sad and tragic, and helping a girl like me hunt justice might be exactly what he needed." However, the narrative is much larger than just William and Shandi. Jackson looks at a variety of relationships: parents and children, lifelong friendships, budding love, relationships that failed, relationships in flux. The robbery in the convenience store causes Shandi and Natty to forge a bond with William, but that bond threatens Shandi's closeness with her best friend Walcott, who was literally and figuratively shut out of the experience. Shandi's concept of romantic love is hindered not only by the rape she's refused to let herself admit happened, but also by the failure of her parents' marriage and their subsequent unhappiness. The shape of their past molds her difficulty risking her heart in a relationship.
Despite some of the heavier thematic elements, in Jackson's world, second chances and true love tend to prevail, and her offbeat sense of humor can find the lighter side of any situation, whether it's a confrontation with a snooty stepmother or moving away from home for the first time. Readers who prefer the fluffier side of chick lit will find plenty of laughs to satisfy their tastes here, and readers with a predilection for thought-provoking substance will likewise leave the story with a feeling of satisfaction. With a standout voice and a talent for creating fresh, vibrant characters, Jackson continues to be a powerhouse of bold, heartwarming, book club–worthy fare. --Jaclyn Fulwood