Today's issue focuses on cookbooks--a genre that we at the Shelf love more than most things (except chocolate). Consider Cowgirl Creamery Cooks by Sue Conley and Peggy Smith (Chronicle Books, $35), cofounders of the famous Point Reyes Station artisanal creamery. From their buttery classic grilled cheese sandwich to Lemon-Ginger Crème Fraîche Granita to Tomato Watermelon Panzanella Salad with Feta, you'll be inspired to increase your dairy consumption.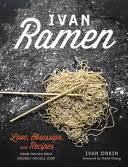 You can also do that with Four-Cheese Mazemen, a fusion dish at Ivan Ramen Plus. In 2007, a middle-aged Jewish guy from Long Island opened a ramen shop in... Tokyo. Crazy. But Ivan Orkin became a celebrity with his handmade noodles--lines around the block, his own brand of instant ramen, a new branch in New York--and he tells his story and shares recipes in Ivan Ramen (Ten Speed Press, $29.99).
Dessert cookbooks are plentiful, as always. Sweet by Valerie Gordon (Artisan, $35) features many chocolate confections, like black pepper truffles, but she has other treats, too, like Champagne Gelée, Peach Melba Jam and Brown Derby Grapefruit Cake. For those who want their sweets just straight-up chocolate, try Seriously Bitter Sweet by Alice Medrich (Artisan, $25.95, trade paper). The expected recipes are both basic and elegant. The unexpected recipes are intriguing: baby greens or chopped eggplant with cocoa nibs, chocolate-olive oil crostini, pasta sauce.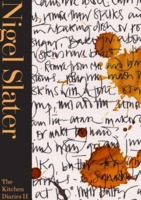 Nigel Slater's Notes from the Larder: A Kitchen Diary (Ten Speed, $40) follows Tender and Ripe as a must-have for food lovers. The May 20 entry features "the endlessly useful eggplant"; September 8 is a rumination on kitchen papers: "I will admit to a slight obsession with paper... simple, useful paper." December 15: "Sucker as I am for the holly and the ivy, there are times when December can get the better of me." A fast, simple soup saves him. Pick any day of the year--Nigel Slater will charm you. --Marilyn Dahl, editor, Shelf Awareness for Readers