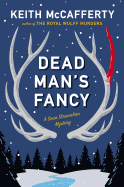 Sean Stranahan is a renaissance man of the West: a fly fisherman, a painter and--in his spare time--a private investigator. For Dead Man's Fancy, the third novel in Keith McCafferty's mystery series, Sheriff Martha Ettinger summons Stranahan when a young woman disappears in the Montana mountains and the ranch hand who set out to rescue her is found impaled on an elk antler.

Tempers run high when evidence points to the likelihood that a wolf killed and consumed the woman. Wolf lovers face off against their adversaries, forcing Ettinger and Stranahan to find the truth before all hell breaks loose in the Madison Valley.

McCafferty's strong sense of place comes through not only in the Montana setting itself, but in the characters. Stranahan notes that while he's an Easterner by birth, he's far more comfortable with the Western way of life. "Casual acquaintance came so naturally," McCafferty writes, "that he seldom paused to consider that it was anything but ordinary to exchange hellos with a passing fisherman and take the confession of his infidelities a half hour later."

At times, McCafferty seems to try too hard to accurately portray fly-fishing; the excessive detail slows the momentum. However, the strong character and relationship development keep the reader's attention long enough to be reeled back in.
The West is a hot setting for mysteries these days, but McCafferty has found his own appealing niche with Stranahan and his Madison Valley crew. --Jen Forbus of Jen's Book Thoughts