Every publisher who has a book with the words "Brazil" or "World Cup" in the title believes, or will try to convince us, that their book is the must-read soccer book of 2014. Here are four books, none particularly on the World Cup, that deserve mention--a good start for the summer games.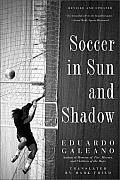 The best soccer book ever written just got better. Nation Books has published an updated version of Eduardo Galeano's Soccer in Sun and Shadow ($16.99, trade paper) that now includes his writing on the 2006 and 2010 World Cups. The book is a series of vignettes, a chain of stories, that cover the history of the sport through players, coaches, matches and goals. Those stories are framed by current events, politics, globalization, racism and commercialism. Galeano has said he wrote the book to enable "fans of reading to lose their fear of soccer and fans of soccer to lose their fear of books."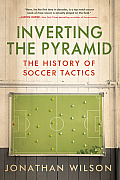 To understand Inverting The Pyramid: The History of Soccer Tactics by Jonathan Wilson (Nation Books, $18.99, paperback), you do need to know soccer. Actually, you have to be a bit of a soccer geek to work your way through these 400-plus pages of the history of soccer tactics. You might have heard of the 4-4-2 formation, but the 4-6-0 or the 1-3-3-3? Makes the mind twitch. The book, originally published in the U.K., has been updated and adapted for the U.S. market.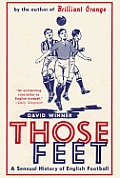 The oddest new book might be Those Feet: A Sensual History of English Soccer by David Winner (Overlook, $15.95, paperback), on how the English style of football, with deep roots in Victorian values and sexual anxiety, has created a modern neurosis for British football. For example, in the mid-19th century, John Charles Thring was influential in developing codes of football. His brother Edward Thring was important in Victorian education and obsessed with stamping out masturbation, which connects with William Acton's concept of "spermatic economy" in developing strong, focused young footballers. I guess that's about all I want to say about that.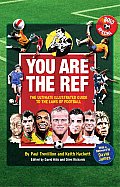 The most fun of the recent crop of titles is You Are the Ref: The Ultimate Illustrated Guide to the Laws of Football by Paul Trevillion and Keith Hackett, with a foreword by Howard Webb (Overlook, $15.95, paperback), probably the most recognizable referee in the sport. A cousin to the Guardian comic strip that poses a match situation on Friday, with official answers on Mondays, the book is a collection of guidelines and advice, rules and scenarios for referees. There are the 6Cs of refereeing, which remind me of the 5D's of Dodgeball (stupid movie reference). My favorite section is on how to detect simulation--diving to the ground and feigning injury to draw a foul. If you want to see examples of flagrant diving, go to YouTube and search Arjen Robben or Cristiano Ronaldo.
Since the United States was plopped into the Group of Death (I mean, seriously--Ghana, Germany and Portugal?) the chances that we'll get out of the group stage are not pretty. But our shot to advance in the World Cup of World Literature (working title) is wide open. More information on this Global Literature Mega-Spectacular Event, hosted by Chad Post and your humble soccer editor, will follow soon at Three Percent. --George Carroll, independent publishers' representative (and Shelf Awareness soccer editor)