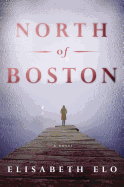 At the opening of Elisabeth Elo's accomplished debut literary thriller, North of Boston, Pirio Kasparov is crewing her friend Ned's fishing boat when a hulking gray ship emerges from the fog outside Boston harbor and smashes into them, hurling her overboard into the cold Atlantic. She watches Ned and his boat disappear and endures four hours in the ocean, clinging to flotsam. Her miraculous survival earns her the local tavern sobriquet "The Swimmer" and prompts the U.S. Navy to enlist her in SEAL research into her metabolism's unusual defenses against "what the Navy calls thermal exposure and what I call freezing to death."

Elo expertly explores Kasparov's personal life as the daughter of a Russian immigrant who is now confronting a terminal disease; she stands to inherit his successful perfume empire after his death. As the loyal friend of a college classmate with a drinking problem and a precocious son by Ned, Kasparov is also a godmother and babysitter. The more she learns of Ned's former employer, a Japanese-owned fishing conglomerate, the more she becomes suspicious that the "hit and run" collision at sea was a murder to cover up illegal whale killing in Baffin Bay. With a deft hand, Elo turns a survival story into a tense international mystery.

Elo's descriptive language is equally at home in Beacon Hill society as in the rough bars of Boston Harbor. Pirio Kasparov is not only a woman with an extraordinary physiological tolerance for cold water; she's also a character with legs. Watch for Elo's future adventures of this plucky Boston woman who follows her instincts and heart more than her head. --Bruce Jacobs, founding partner, Watermark Books & Cafe, Wichita, Kan.