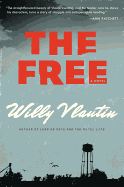 Willy Vlautin's fourth novel, The Free, begins on a more hopeful note than previous works like Northline and Lean on Pete. That brief moment happens when 24-year-old Leroy Kervin wakes up in his group home and, for the first time since a roadside bomb in Iraq exploded next to him, looks at a pinup girl on a calendar and makes sense of it. "Suddenly he could think things through, he could put things together, where in past years he'd been unable to." Since the explosion, he has trouble talking, walking, handling his emotions--a constant series of frustrations.

This sudden clarity is welcome but so suspect that Leroy instantly wonders if it is just an illusion--then decides to kill himself lest he fall back into fog and confusion. He succeeds only in injuring himself badly.

Freddie McCall, night man at the home, finds Leroy, blood everywhere, with a piece of wood sticking out of his chest. Freddie is a good soul; sympathetic and caring. His wife left him, taking his two beloved daughters to Las Vegas with her boyfriend. It's too far for Freddie to visit, but he calls his girls every night and tries to make conversation. The triumvirate of characters is completed by Pauline, a hospital nurse caring for Leroy. Pauline is alone in the world except for one girlfriend, her patients and her father, with whom she has a love-hate relationship.

These three wounded souls and their stories circle around each other and take on a poignancy that Vlautin creates, then maintains, masterfully. How can these three cope with what their lives and times have handed them? --Valerie Ryan, Cannon Beach Book Company, Ore.