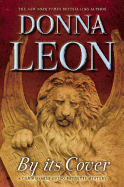 Books are at the fore in By Its Cover, the 23rd installment of Donna Leon's Commissario Guido Brunetti series. Leon has attracted readers from all over the world with her Venetian setting, irresistible characters and in-depth exploration of politics, morality, graft and corruption. Art and literature have played an important part in many of those cases, but this time, all the focus is on books.

Brunetti is called when Dottoressa Fabbiani, chief librarian at Biblioteca Merula, discovers someone has stolen pages out of several rare books. The immediate suspect is an American professor who requested the volumes for his research. Unfortunately, he fled the library earlier in the day--and, after checking his documents and credentials, Brunetti discovers he is an impostor.

Unlike previous novels, no time is spent at leisurely lunches with Guido and his family, discussing the relative merits of artichokes or just how al dente the pasta is. This is serious business; suspects are thick on the ground, motives proliferate and then an ex-priest who spends his days at the library is brutally murdered. As the investigation continues, Brunetti asks himself who is really innocent and who guilty, examining all his preconceived assumptions of virtue and morality. Of course, he prevails in the end, drawing all the loose ends together, including the library's patron, a friend of his wife's wealthy family. --Valerie Ryan, Cannon Beach Book Company, Ore.