Jill Mullin is a New York City behavior analyst whose amazing book, Drawing Autism (Akashic), took form when she met Glenn Russ, an individual diagnosed with autism spectrum disorder (ASD), who liked to draw stylized stick figures depicting The Temptations and Jackson 5, his favorite bands. Inspired, Mullin began to solicit artwork from other individuals also on the spectrum.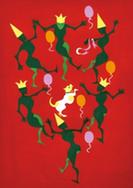 Eleni Michael's Dancing with the Dog
The book's 2014 edition, an update of the 2009 version, includes 160 full-color pages with works from established ASD artists such as David Barth, Gregory Blackstock and Jessica Park, along with less well-known but equally talented contributors from North America, Europe, Asia and Oceania.
The book features many women artists--though Mullin notes that "ASD is almost five times more common among males (1 in 42) than among females (1 in 189).... Maybe more females on the spectrum are socially motivated by having their work or vision examined by the public?"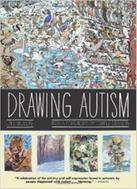 Asked whether Drawing Autism aims to highlight differences on the spectrum or blur the esthetic divide between "typical" and ASD artists, Mullin acknowledged that her goal embraces this delicate paradox: "Much of the artwork in the book is compelling in its own right. If you saw it hanging on a wall or in a book and knew nothing about the artist's background, it would still catch your eye. As a professional in the field, I know exactly what it means to say that autism is a spectrum disorder. But for those unfamiliar with the term, I think the book serves as a great point entry into understanding how ASD manifests differently in every individual." --Thuy Dinh, editor, Da Mau magazine