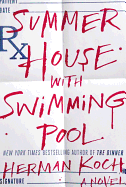 Dutch writer and actor Herman Koch (The Dinner) again fills a novel with dissension and condescension, as an upper-middle-class Dutch family deals with personal tragedy and vengeance after a summer vacation goes amok.

Narrator Marc Schlosser is a successful general physician with a solid core of patients, many of them neurotic, high-strung eccentrics from the arts. In a highly regulated national medical system, Marc provides his often hypochondriac patients with 20 minutes of nonjudgmental listening and easy access to prescription comfort, including a suicide cocktail when the time comes.

When he, his wife, and their two early-teen daughters are invited to the Mediterranean summer rental house of a patient, the well-known actor Ralph Meier, Marc finds himself in a world of hedonism and excess that scars his older daughter and nearly topples his marriage. Fat, vulgar, womanizing Ralph spends the vacation days barbecuing, drinking, ogling Marc's daughters and wife and leading nude swimming expeditions. In the freewheeling chaos of liquor and sunshine, Marc drunkenly and persistently pursues Ralph's wife, while his hormonal young daughters bask in the attention of Ralph's teen sons and Ralph himself. Marc's wife sees the dangers circling her family and begs him to leave before bacchanalian temptations lead to tragedy--too late, it turns out.

With an almost Nicholson Baker-ish flair for the details of our modern Western world of sex obsession and fragile families, Koch builds his story from the cynical musings of a successful doctor into an addictive mystery about just what happened at that idyllic vacation villa. --Bruce Jacobs, founding partner, Watermark Books & Cafe, Wichita, Kan.