Today I received yet another soccer book with the tagline "published in time for 2014 World Cup." This marketing tactic is similar to publishing a baseball book "just in time for the World Series," or a football book "just in time for the Super Bowl." You don't read a book on baseball during the World Series, and you don't read... oh wait, hardly anyone reads football books. And with the ability to watch World Cup matches all day, every day, from now through mid-July, fans aren't going to be reading a lot of books.
Still, as the matches start, we have some recommendations:
Fear and Loathing in La Liga (Nation Books, paperback). It's the perfect time to read this book about the rivalry between Real Madrid and FC Barcelona. Author Sid Lowe wrote a column for the Guardian suggesting that the El Clásico match in March might have been the game of the century. Not the best matchup between the two teams, but the best game.
Who Invented the Bicycle Kick? (Morrow, paperback) is a collection of q&as, like, well, "who invented the bicycle kick?" According to authors Paul Simpson and Uli Hesse, if you believe Eduardo Galeano, it was Ramon Unzaga. Goodness, why wouldn't you believe Galeano? You'll also find answers to rather odd questions like "do footballers have small feet?" and "who invented Total Football?"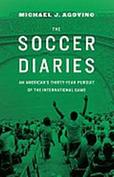 The Soccer Diaries: An American's Thirty-Year Pursuit of the International Game (University of Nebraska Press) is Michael J. Agovino's story of falling in love with the sport in the U.S. in the '80s and his pursuit of the game both here and internationally. Arranged by specific matches, the book is a personal and entertaining travelogue. He went to so many great matches. So jealous.
| | |
| --- | --- |
| | |
When systems manager Alberto "Mono" Raguzzi takes a corporate buyout rather than accepting a promotion, he invests all the money through a washed-up soccer agent/apparent drug dealer in a promising player, Mario Juan Bautista Pittilanga. But Pittilanga is playing in a lower division team and is crap as a striker. Mono dies of cancer, and his three best friends are left with the problem of selling Pittilanga's contract to provide for Mono's daughter. Their strategies to inflate his value, their cons to unload the paper on him, create multiple twists in Eduardo Sacheri's novel Papers in the Wind (Other Press, translated from the Spanish by Mara Faye Lethem; paperback).
Red or Dead (Melville House), David Peace's novelization of manager Bill Shankly's 15-year career at Liverpool Football Club, is a wonderful book. Peace's writing has an echo built into it, a bit like call and response. The voice he's given Shankly is genuine and charming. It's a bit of a brick at 736 pages, but the writing is so engaging, so well done, that I almost forgot I was a reading it digitally. Almost. By the way, soccer books shouldn't be read digitally. --George Carroll