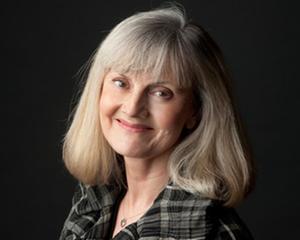 Thirteen years ago Jacqueline Winspear introduced the world to Maisie Dobbs, an unconventional sleuth who rose above her station as a housemaid, encouraged by the patronage of her lady employer and an unusual apprenticeship in investigation, interrupted by her work as a field nurse in the Great War. With 10 internationally bestselling Maisie Dobbs mysteries to her credit, Winspear has now written her first stand-alone novel, depicting the parallel realities of life on the front lines and the home front, with a publication date that coincides with the 100th anniversary of World War I.
The Care and Management of Lies opens with the story of two friends: Thea, a pacifist suffragette living and working in London, and Kezia, a clueless minister's daughter who has become engaged to Thea's farmer brother, Tom. Before her wedding, Thea gives Kezia a book on women's household management, meant as a dig, but which turns into the resource Kezia uses to not only keep the home fires burning and the farm running, but also in the creation of letters filled with home cooking that sustain Tom and his compatriots as they face unbearable conditions at the front.
The idea for this book came to you long before you conceived of Maisie Dobbs or even thought of becoming a writer; can you tell us about that?
Do we have to say how many years ago? I was 26 or 27, and my day job was working in academic publishing, which, as everybody knows, has as much to do with regular publishing as cake baking has to do with the high-tech industry. On the weekends I helped a friend who had a stall in London's Portobello Road market. I would go to jumble sales--like your rummage sales--and I found this book, The Woman's Book, which was absolutely falling to bits. It had been inscribed to a young woman on the occasion of her marriage in July 1914. I remember standing there transfixed, and I wondered: Did he go to war? Did he come home? Was this young woman widowed before she even had the chance to become a wife?
Why not use the idea as part of a Maisie Dobbs book?
I didn't feel like it belonged; they deserved their own story.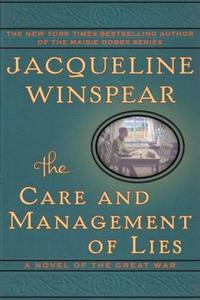 Can you remember the name of the young bride who received The Woman's Book?
I do, but I am not going to tell. It wasn't Kezia, who I think was my great great grandmother. One of my cousins had a heart attack six or seven years ago, and because he was bored he started delving into family history. When I saw the name Kezia, I can remember thinking, that's it, I'm going to use that name.
I never forgot that couple, and a story began to grow around them, as it does. I have always been fascinated by the idea of love in a time of war.
What was it like to write your first non-mystery?
It was just different. Every story has a certain pace, a certain rhythm, a certain arc. I wanted this to begin with much more of a pastoral rhythm to it, because a mystery goes through chaos to resolution and the chaos in this story is the same chaos everyone went through during the war.
Creatively, I think I needed to prove that I could do something different. Of course, the time period is one I am comfortable with, but I was worried because I didn't think my publisher would go for the idea. When you've got a series, most publishers, all they want is the next one in the series--as do readers. I was very, very pleasantly surprised when my publisher said, "All right, we like the idea."
Where did the title come from?
I had always loved those old books and articles from the 1800s onward, and they often started with "The Care and Management of...." The Care and Management of Lies just seemed perfect because Kezia and Tom, in a way, tell lies to protect each other and to demonstrate their love for each other. And then there's the whole underpinning of the lie of war and the lies that Edmund [the commanding officer] has to tell: "He died instantly."
Why did you decide to use Kezia's letters with descriptions of meals she would make for Tom as a plot device?
When I spent time at the Imperial War Museum reading through letter collections of just ordinary people, it was interesting the number of times people talked about food. "Thanks for the biscuits, Mom," "I wish I was there for Sunday lunch"....
Nostalgia is a really powerful emotional sense when people are away from home--particularly when they are away from home in a war zone. And there is nothing that speaks to emotional nostalgia as much as food. And they absolutely shared those parts in their letters; it was the collective experience of bringing home into the trenches.
We know that an army marches on its stomach, but with the army it was "calories in and calories out"--they didn't care so much about taste and the emotional experience of eating, which literally caused armies to be on the brink of mutiny. But a lot of slack was picked up from home, with people sending out cakes and favorite things.
When this really came home to me was when I was back in England and I was telling my oldest and dearest friend about my new book. She is a woman whose husband is a career officer and whose son is on his third tour of duty in Afghanistan. As it happens, that night, when we were sitting at the kitchen table, her son phoned from Afghanistan at dinner time and asked, "So, what's on the table, Mom?"
In the acknowledgements you mention your husband, who believes in celebrating endings; should we take that as a hint that perhaps you have reached an ending with Maisie Dobbs?
No. No. My husband has always said that you celebrate every step of the way. When you finish a first draft, he says, we are going to break out a bottle of champagne, because when I start a book, I am always convinced that I can never, ever write it or even finish it.
Writing a novel is a journey. It's a journey of creativity, endurance, spirit and emotion.
So, when we last left Maisie Dobbs, it is the mid-1930s and she is on a ship leaving Southampton. What's in store for her?
I'm not telling. There will be a new series of adventures for her beginning in April 2015. They are slightly different. Maisie's back; and there are some people you know and some people you don't know. Her work is going to take on a slightly different hue. --Bridget Kinsella