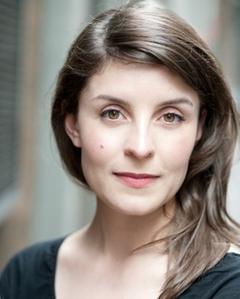 photo: Wolf Marloh
Oxford University graduate and actress Jessie Burton is English born and bred. Her debut novel, The Miniaturist (Ecco), tells the story of a wealthy, dysfunctional family living in Amsterdam during the Dutch Golden Age. Burton claims her only connection to the Netherlands is having visited Amsterdam twice. On one of those trips, she visited the Rijksmuseum and was drawn to an eight-foot-tall cabinet house built in the late 17th century. Burton was intrigued by the "very beautiful, decorative object, full of detail, precision and imagination." When she discovered the miniature house was an exact replica of an actual house owned by a woman named Petronella Oortman--and that it cost the same as a full-blown townhouse to build and furnish--the writer in Burton began to consider the type of woman who would commission such a house and what sort of society would condone such an expenditure.
It took Burton four years and 17 drafts to perfect the novel. During that time, she got to know the characters better, layered and sculpted the story and enriched it. The finished project ultimately went to auction in Britain and around the world. The book will be published 30 languages. Burton admits, "I would have been happy with one!"
When you first saw the cabinet house in Amsterdam, did you perceive the potential to write a historical novel immediately?
Not immediately, no. I bought the guidebook in the museum shop and kept reading and thinking about the cabinet house. A month or two later, I abandoned another writing project I had been working on and pictured this young woman, turning up in the city of Amsterdam to start a new life. It began as a short story--I had never written a full novel. But quickly it became clear I had a novel on my hands.
Tell us about the research necessary to create such an authentic 17th-century world.
I researched as I wrote. I needed the fictional story to pose factual questions rather than just me absorbing historical facts and regurgitating them as prose. I could neither afford the time nor money to travel extensively to Amsterdam, so I read a lot about the social and art history of the region, looked at paintings, and used Google maps and moved through the city, parts of which have barely changed since the 17th century!
I had the fictional skeleton of the novel in my head, but certain facts, like what pie they might have eaten and in what season, or the debts accrued with a tailor, or draconian citizenship policies, or the type of dog an Amsterdammer might have favored, would trigger my imagination and root the story in a factual, yet still impressionistic, setting. The facts that I learned allowed me to play. The priority was the story. Sometimes I conflated real-life events, sometimes I adhered to them in their chronological order. Other times, I rebelled, because it's a novel. I let imagination take control.
Did you ever have a dollhouse?
I did. When I was a child, I had a Sylvanian Families one, with little woodland animals instead of dolls. I adored it. I had a whole world--a nursery, a school, a shop, an ice-cream cart, a house... it was perfect.
The owners of the actual cabinet house--Nella Oortman and her wealthy, merchant husband, Johannes Brandt--are characters in the novel. How much of their lives is historically accurate and how much was invented? Were any other characters based on actual people?
Very little is based on actual lives. I was more interested in the object of the dollhouse as the inspirational springboard. I invented the ages of Nella and Johannes, the fact that it was Nella's first marriage and her rural upbringing. The novel is all invention except for their names, the historical setting and the fact that Nella owned the dollhouse. All the other characters are invented, too, but their presence has been inspired by many portraits and paintings I studied from that time.
Are there any characters in the novel to whom you feel a strong affinity/dislike?
I feel very deeply for Marin, Petronella's sister-in-law. She took me by surprise. Initially, she was supposed to be a sort of obstacle to Nella, and not much more, but then I realized how complicated and strong she was, how capable she was of love. I have no dislike of any of my characters. They all have their crosses to bear.
There are strong feminist overtones in the novel. Was it always your intention to build that platform into the storyline or did those aspects evolve through the writing?
I had no agenda nor pre-orchestrated intentions. My female characters are just who they are. If a male writer puts strength, color and adventure in the hands of his male characters, he is not asked if he is pursuing an agenda. Many people assume that what he's doing is the norm, because that is the overarching dominating history of Western literature--books by male writers portraying the male experience as universal, even when they're writing women characters. I am female, and it is quite normal for me to give the universal themes to my female protagonists. I didn't think twice.
Did you carefully plot out the novel before undertaking to write it?
I didn't know before I started writing what was going to happen in every chapter, but I had images in my mind--scenes, conversations, ideas I wanted to explore. I had a vague arc with a beginning and an end, and was always jotting down instructions to myself like, 'this has to happen--but where?' Gradually, through the long process, things all started slotting into place. But the process was not obvious.
Why did you choose to write the narrative in the present tense?
I chose the present tense to ratchet up the tension. The book takes place over three months, and I wanted readers to really feel they were seeing all this through Nella's eyes.
The story is visually rich and would certainly lend itself well to a TV or film adaption. Any prospects?
Thank you! On that subject, my lips are sealed!
You've been an actress in Britain for many years. Have you found any similarities between acting and writing?
I have always written--short stories, sketches, poetry. And writing has always gone hand in hand with my acting....The pursuit of a creative career is fraught with high expectations and disappointment... but I think acting and writing are actually very different. Acting works when the actors on stage are all in harmony with each other--it's communal, a mutual concerto, it's about listening and sharing. But writing is so solitary--you are ALL the actors, the director, the producer making sure you turn up for work... it's impossible for me to compare them as they use different parts of who I am.
Are you writing a second book? If so, will it be another historical novel?
Yes. My next book is set in Spain in 1937 and London, 1967. It is about identity and belonging, the chaos of war, missing bodies, an art theft, an unusual friendship and a woman who isn't who she says she is. That's all I can say for now! --Kathleen Gerard