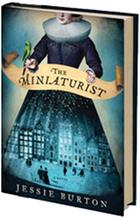 Dark shadows, whispered secrets and glimpses of life through ancient keyholes are just some of the elements that infuse The Miniaturist, an evocative, atmospheric debut novel by Jessie Burton. The action takes place during the Dutch Golden Age, in 17th-century Amsterdam, along the Herengracht, one of the most important and prestigious canals in the city, the neighborhood of the richest and most influential.
The story launches in October 1686 when 18-year-old Petronella "Nella" Oortman arrives in Amsterdam. With her father deceased and the family in debt, Nella is married off to a man who her mother believes "can keep a guilder in his purse." The couple is actually married in September, but it is not until October that Nella leaves her mother and siblings at their countryside home in Assendelft and travels to Amsterdam. With Peebo, her caged pet parakeet, in tow, Nella, an imaginative girl, is ready to embark on her new life as the wife of the rich and charming Johannes Brandt--a 39-year-old, high-ranking merchant powerbroker for the Dutch East India Company that plies wares throughout Africa, Europe, Asia and Indonesia.
Upon Nella's arrival, she is surprised to learn that her husband is traveling. In his absence, she is greeted by Johannes's sister, Marin Brandt, a severe, tightly wound, sharp-tongued woman dressed heavily in black who grudgingly welcomes Nella into the household, which also consists of a maid and cook named Cornelia; Otto, Johannes's manservant, with exotic "coffee-bean" colored skin, whom Nella later learns speaks French and English, can plot a map and check the quality of Haarlem wool; and two beloved whippet dogs who worship their master, Johannes.
Once settled, Nella is stymied by the excessively frugal household and her controlling sister-in-law who orders Nella's clothes and drags her to church. Cornelia, the cook-maid, comments, "Marin eats like a mouse and shops like a nun." When Nella questions her sister-in-law about this way of life, Marin replies, "The Bible tells us that a man should never flaunt his wealth."
Marin appears as devout and zealous in her religious belief as she is strict and rigid in managing the household financial accounts. Why is that? And why is she not married? The intrigue only deepens when Nella snoops in Marin's room and discovers a provocative love letter. Who could it be from?
Perplexed, Nella feels invisible and ignored in her new home where she senses an underlying permissiveness and an uncharacteristic friendliness coming from the servants, which Nella is not used to and cannot understand. When her husband is home, which is not often, Johannes is kind, but distant--even rejecting Nella's romantic overtures. He does little to appease his new wife or tame his overbearing sister, whom Nella overhears telling Johannes how to make trades and other business decisions. Why does rich and powerful Johannes make comments about his "cloudy, untouchable wealth"? Is his fortune somehow in jeopardy?
With Johannes always traveling, Nella has many questions she would like to ask her sister-in-law, such as details about her husband's business and about commodity traders like Frans and Agnes Meerman, who deal in sugar loaves. Nella finds that conversation with Marin is never easy, and Marin's responses to inquiries about her brother's work are puzzling: "He turns mud to gold. Water to guilders. He sells other men's stock at better prices. He fills his ships and puts them out to sea. He thinks he's everybody's favorite. That's all I know."
Aggression increases between the two women, and when Johannes presents his new bride with a wedding gift, an exact model replica of their home, "an enormous, looming structure measuring nearly half of Johannes's height... a huge cupboard supported by eight curved and sturdy feet," the balance of power and authority in the household suddenly begins to shift.
At first, Marin takes issue with the lavish gift, which she feels is a garish symbol of wealth and power. At the cost of three thousand guilders, Marin believes that if "invested properly, a family could live off that for years." Nella, on the other hand, sees the cabinet house as "beautiful and useless," an insulting "monument to her powerlessness" as mistress of the actual house.
Marin ultimately encourages Nella to decorate the cupboard. "If you leave the cabinet empty," Marin says, "you'll turn Johannes's gift into a crime of profligacy." Marin gives her pseudo-blessing and extends promissory notes to Nella, finally propelling Nella to leave the house and venture into the busy shopping district in search of a miniaturist who can help her decorate the cabinet, in defiance, with all the material things that Marin detests.
The miniaturist proves to be elusive and is never in the shop; Nella leaves notes at the store. In her travels, Nella also gathers information about her husband and his associations. When startling truths come to light, Nella's loyalty comes into question as she begins to fear for her life--and the lives of others.
During this time, the chronically absent miniaturist sends cryptic messages and unsolicited parcels to Nella--intricately crafted, precise furniture reproductions for the cabinet, along with eerily accurate replicas of the inhabitants of Nella's world.
The miniature creations seem to mirror real-life adversities--often foretold. Who is this mysterious craftsperson who knows so much about Nella and the complex relationships of those in the household? Can this artisan/prophet see into the future? And does the miniaturist have some sort of ominous power and control over Nella's fate?
The idea is as unnerving to Nella as the revelations and rumors that continue to emerge about the secret, flawed lives--and love affairs--of those around her. Suspense builds as the realities of Nella's world shrink in size, becoming as compressed as the confines of that cabinet house.
Burton is a skillful writer. Her narrative is riveting and lyrically written in the present tense. The historical drama plays out over a period of three months against a detailed, sweeping backdrop of Amsterdam, while Nella makes a transformative journey from naïveté to enlightenment to empowerment. The Netherlands, at this point in history, was a largely male-dominated, pious and puritanical, church-governed civilization. Therefore, it is refreshing that Burton chose to focus the story on the plight of Nella and other women in her circle. These female characters wield their influence and vie for freedom behind the scenes, in a repressive, intolerant society ruled by vanity and wealth and plagued by greed and prejudice. In the end, the power of love and obsession, sins and secrets, loyalty and forgiveness bind together a cast of sympathetic characters who all have a part to play in a collectively chilling conclusion. --Kathleen Gerard