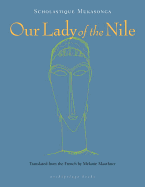 Scholastique Mukasonga's entertaining first novel about a girls' school in Rwanda in the early '90s is far more than just a prelude to the coming bloodbath. Our Lady of the Nile is written with plenty of humor, depicting the dire Rwandan conflict through some very likable teenagers. The titular Our Lady of the Nile is a four-story lycée located close to the source of the Nile River. The isolated, high-altitude school was built in 1953, about a decade before Rwanda gained independence from Belgium. There, the students remain virgins--or, at least, avoid getting pregnant.

The novel is a series of interrelated stories featuring a different girl in each chapter, with the same recurring ensemble of students throughout. Sometimes the school itself is the source of conflict. Girls at the lycée are not allowed to speak Swahili, the language of Muhammad. They are forced to eat white people's food, which usually comes in cans. The treacherous chaplain who heads the Catholic Relief Services reserves the loveliest donated dresses for his favorite students; to receive the "gifts," the girls must undress in front of him.

Despite the serious setting, Mukasonga proves to be a playful author, and a chuckling good humor pervades the book. Our Lady of the Nile offers a total immersion in a way of life--with its own customs and morality--through a handful of comical and compelling schoolgirls swept up in the divisive politics of a nation. This is a skillfully orchestrated vision, both loving and fearful, of Mukasonga's beloved homeland ripped apart by vicious racial hatred. --Nick DiMartino, Nick's Picks, University Book Store, Seattle, Wash.