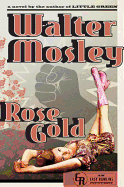 In 25 years, Walter Mosley has published some 40 books, but perhaps his most endearing recurring character is the Los Angeles private detective Easy Rawlins (Devil in a Blue Dress). Mosley personifies the sometimes-violent, sometimes-corrupt, always racially tinted history of Los Angeles through the life of this self-employed black man with both street and book smarts and an expansive network of helpful contacts. Rose Gold brings the resourceful Easy into the turbulent 1960s.

Easy is offered a confidential assignment by the chief of police, who needs help finding a wealthy, white arms manufacturer's missing daughter, Rosemary, believed to be kidnapped by a black former boxer and murder suspect named Battling Bob Mantle. The case gets complicated by the Patty Hearst-like political leanings of the missing girl, and Easy finds her trail littered with murders, robberies and megalomaniacal commune leaders. Mantle appears to be the fall guy, used to cover up police corruption and illegal government arms sales. To untangle the web, Easy calls on his old friend Raymond "Mouse" Abernathy and teams up with Rosemary's mother's bodyguard, Teh-ha Redbird.

Mosley's best writing not only tells a good story, but also quietly draws attention to the many ways that race impacts life in the United States. He reminds us that people aren't colored in black or white, but rather in unusual shades in between with the physiological characteristics of our many origins. We are lucky to have Mosley working on behalf of racial understanding, and Rose Gold is one of the best of his not-always-so-easy Easy Rawlins novels. --Bruce Jacobs, founding partner, Watermark Books & Cafe, Wichita, Kan.