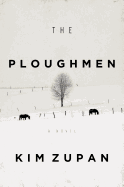 Set in the emptiness of east Montana, Kim Zupan's debut novel, The Ploughmen, is the story of 77-year-old serial killer John Gload and Copper County Deputy Sheriff Valentine Millimaki. After a former accomplice ratted him out in a plea bargain, Gload is in jail awaiting trial. Recently hired, Val is stuck on third shift to guard Gload and try to coax him to divulge where he buried his many victims.

In the quiet hours they spend together, a bond gradually forms between the two men--at first based on their similar farming childhoods, but later intensified by the shared isolation of their lives and their frequent proximity to death. Struggling in his unraveling marriage, Val suffers exhausting insomnia. With his tracking dog, Tom, he takes daytime assignments to find missing persons while his wife works as an intensive care nurse. He and Tom eventually find the lost--at least their remains. Gload, on the other hand, kills to support himself, robbing his victims before scattering their bones.

As Val's life unwinds and he broods over its meagerness, he temporarily falls under the sway of Gload's fatherly camaraderie. But the false friendship doesn't take--Gload is still a killer and Val a lawman intent on seeing him put away for the rest of his life. Zupan counterpoises the beauty of Montana's mountain ranges and vast wheat fields with its harsh loneliness that can nurture violence and depression. His story of Val and Gload, "like two trains going different ways," is an insightful glimpse into the characters of two men confronting life and death alone and up close. --Bruce Jacobs, founding partner, Watermark Books & Cafe, Wichita, Kan.