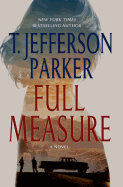 Over many years, Archie and Caroline Norris built one of the finest avocado farms in Fallbrook, Calif., but drought and a devastating wildfire put them on the edge of bankruptcy. Their oldest son, Ted, is partially lame and mentally unstable. When their youngest son, Patrick, returns home a local hero after his deployment in Afghanistan with an acclaimed Marine battalion, Archie hopes the can-do Pat will help salvage the trees and take over the farm. Unfortunately, Pat's tour in the Sangin District has broken his optimism and hardened his heart.

Full Measure is a hard look at the effects of war, the bonds of both brothers and brothers-in-arms, the fate of the family farm in modern society, and the economic stress on small American towns after 9/11 and the Great Recession. If that sounds like a lot of weight for one novel to carry, T. Jefferson Parker's 30 years of crime writing equip him to pack the load. When it turns out that the wildfire is the result of arson, the pace quickens: Ted begins to crumble, Archie and Caroline sell their retirement funds to save the farm, and Pat must put aside his own plans for the future to save his family. A reluctant hero, uncertain what to do, he instinctively follows his Marine training "to just put one foot in front of the other and get the mission done."

Though this isn't the kind of crime novel we've come to expect from Edgar Award winner Parker (California Girl), there's plenty of crime (arson, vehicular homicide, prostitution, robbery, assault) and it's a damn fine novel. --Bruce Jacobs, founding partner, Watermark Books & Cafe, Wichita, Kan.