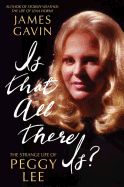 By any commercial account, Peggy Lee's life was a huge success. In a 60-year career that covered the glory days of big band swing, cabaret clubs, cool jazz and rock and roll, she sold more than 20 million albums, was nominated for an Academy Award, wrote and performed dozens of her own songs (including four in Disney's animated Lady and the Tramp), and published an autobiography and a poetry collection. Yet, as James Gavin's new comprehensive biography suggests, the woman born Norma Deloris Egstrom never quite found satisfaction from fame, romance and riches.

Borrowing its title from one of her most famous songs, Is That All There Is? boasts descriptions of Lee from dozens of music heavyweights such as Count Basie ("Are you sure there's not some spade in you?"), Downbeat critic Dave Dexter, Jr. ("This chick sounds like a drunken old wh*re with the hots"), lyricist Jerry Leiber ("the funkiest white woman alive"), even Iggy Pop, of all people ("Peggy was a super-sassy super-hottie... she also had beautiful eyes and a bomb a**").

Gavin (Stormy Weather) takes us behind the glamorous façade to the ambitious, often disappointed "Miss Peggy Lee," who never had enough money, lovers, or booze and pills to leave her hard-luck, small-town past behind. With neither the fawning adoration of Peter Richmond's 2007 biography Fever nor the tell-all scandal of a gossip column, Gavin's Is That All There Is? presents a balanced story of the life of a fragile star with extraordinary talent but also more than her share of insecurity, extravagance and eccentricity. --Bruce Jacobs, founding partner, Watermark Books & Cafe, Wichita, Kan.