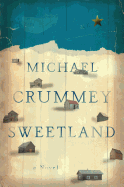 Michael Crummey's Sweetland takes place in the twilight days of a tiny fishing town at the end of the earth. Sweetland, an island colony off the coast of Newfoundland, is so small it makes nearby port city St. John's seem like an intimidating metropolis. Few people still live there, most families having left long ago for the richer pastures of continental Canada. As Sweetland begins, the federal government has offered to pay a generous resettlement fee to each remaining resident if everyone agrees to vacate their island home. Moses Swietlund (pronounced "sweetland"), whose ancestors founded the town, is the last holdout.

Amid pressure from his family and friends to take the deal, Moses recalls the decades he's spent in Sweetland. He's quiet and deeply reserved, an aging bachelor who lost half his face and his ability to have children when working in an Ontario factory as a young man. He's friendly with the only child in town, his great-nephew who exhibits classic symptoms of autism. They make an odd couple, but the boy also loves the island in his own way. Sweetland is full of ghosts--more people have died or left than have ever stayed and Moses can't avoid making a decision much longer.

Crummey (Galore) neither glorifies nor denigrates the realities of small-town life, and presents each character with enormous poignancy and respect. The Newfoundlander-accented dialogue adds a tumbling musicality to the prose, authentic without a shred of condescension. This is a graceful, unexpectedly joyful novel that echoes emotionally far beyond the final pages. --Emma Page, bookseller at Island Books, Mercer Island, Wash.