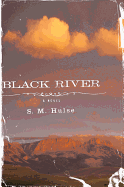 In S.M. Hulse's spare but rich first novel, Black River, troubles loom for her stoic hero, Wes Carver, and his family like the glacial mountains surrounding their small Montana prison town. Black River's economic life centers on the Montana State Prison where Wes and his neighbors walk the tiers as guards, "enforcing rules, suppressing emotions, intimidating and refusing to be intimidated." When a riot erupts, Wes is taken hostage and methodically tortured by sociopathic inmate Bobby Williams. All his fingers broken, his wrists scarred by cigarette burns and cuts from a makeshift prison shiv, Wes is forever changed. No more can he experience the pleasure of his fiddle playing and composing. Now retired from the state on disability, he and his wife, Claire, move to Spokane, Wash., where he's hired as a mall cop to chase shoplifters and rowdy teens.

Wes's riot ordeal is only the latest traumatic incident in his scarred life. His woodworking father committed suicide, leaving his young son nothing but questions and a beautiful handmade fiddle. Claire's son, Dennis, a child of rape, resents his stepfather and threatens Wes with a loaded pistol. Claire develops leukemia, requiring cycles of hospital visits and treatments until the disease finally wins. Wes's nemesis, Bobby Williams, now supposedly a born-again Christian, is up for parole in Black River and Wes returns to attend the hearing.

With neither Claire nor his music, Wes's salvation can come only from "keeping his word. Following through. Doing what needed to be done." Black River is a transcendent story subtly unfolding in flawless prose--a remarkable first effort. --Bruce Jacobs, founding partner, Watermark Books & Cafe, Wichita, Kan.