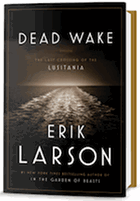 In May of 1915, a torpedo fired from a German submarine struck the RMS Lusitania, a British passenger ship with nearly 200 Americans aboard. She sunk off the coast of Ireland in less than 20 minutes (due to a sequence of events unforeseen even by its attacker), killing 1,200 passengers and crew, fully half of whose remains were never recovered. Common knowledge has it that this event drove the United States to enter a European war that would become World War I, but, in fact, while the Lusitania's fate played some role in that decision, it took two full years and the secret German Zimmerman telegram for the U.S. to enter the war in 1917.
Erik Larson examines this extended U.S. isolationism, the final days aboard the Lusitania, and related events and characters in Dead Wake: The Last Crossing of the Lusitania. As in his earlier books (Isaac's Storm; In the Garden of Beasts), Larson presents exhaustive research with precision and accuracy, in extraordinarily compelling prose. Dead Wake is a masterpiece of gripping narrative nonfiction, arguably the most riveting of Larson's works.
Nearly 2,000 people boarded the Lusitania in New York City, bound for Liverpool, including 1,300 passengers, of whom 189 were Americans. An unusually large proportion were children and babies. The Lusitania was the biggest and fastest civilian ship on the seas in that 10th month of European war. These superlatives--plus the reassurances of the captain, William Thomas Turner, and the Liverpool-based Cunard Line--allowed the ship to confidently set sail despite a German warning published in all the New York papers on the morning of the Lusitania's departure, that "vessels flying the flag of Great Britain, or of any of her allies, are liable to destruction." Larson provides detail and humanity by profiling several passengers and crew members, including a Vanderbilt heir; a psychic; and a Boston bookseller who boarded with a small but invaluable collection of William Makepeace Thackeray's original illustrations and Charles Dickens's own copy of A Christmas Carol, complete with the author's marginalia.
Just weeks earlier, another vessel had departed from the other side of the Atlantic Ocean. German Unterseeboot-20 was captained by Walther Schwieger, a well-regarded young Kapitänleutnant known for his aggressive and innovative tactics. Because submarines lost radio contact with their bases almost immediately upon departure and remained out of contact for much of their cruise, Schwieger was in full charge of his boat, empowered to cruise, dive and attack on his own, with the full support of his government. In following Schwieger's submarine in the weeks leading up to the climax, Larson gives the story dimension; far from presenting the German captain as a monster, he is humanized, for example, by the devotion of the men who worked under him, and the presence on board of a litter of puppies rescued, interestingly, from another ship sunk by torpedo.
As he builds toward the inevitable intersection of U-20 with the Lusitania, Larson introduces more characters. Captain Turner of the Cunard Line had decades of experience at sea, and had just testified in a civil case against the owners of the Titanic on behalf of the families of deceased passengers. He was known to his men as a brave and capable but old-fashioned captain, with "one foot on the deck of a sailing ship." U.S. President Woodrow Wilson had had a rough year, even without the European conflict: having lost his wife Ellen in late 1914, his mourning left him unmoored and struggling to concentrate, until he met widow Edith Bolling Galt. His love for her would prove overwhelming, and their courtship strained--she rejected his first marriage proposal. This love story is affecting, and if it serves as a distraction from the sinking ship at the center of this book, that is a fine style choice by Larson: it was a distraction for Wilson, too.
Meanwhile, a secret section of the British Admiralty was tasked with intercepting and decoding German wireless messages, a purpose known to only nine senior officials, who were hampered in using any information gained for fear of having its cryptanalysis ability revealed. They would therefore fail to warn Turner of U-20's preying presence in the waters he sailed. Such parallel plots and individual profiles add color and depth to Larson's account, as when the chief of British naval intelligence is described as "part Machiavelli, part schoolboy."
The Lusitania's story is in itself moving, and carries great historical significance, but these events positively glitter with life in Larson's engaging, quick-paced and captivating prose. Though it incorporates well-documented history, Dead Wake still contains elements of suspense for all but the most expert readers; as Larson acknowledges, he had his own misconceptions coming into this project, and learned surprising facts in his research, as readers surely will. The pages fly by as such details are revealed and the action ratchets up toward a climactic event that we all see coming, but that still makes us catch our breath. In spellbinding, immediate language, Larson contrasts the "books, and cigars, and fine foods, afternoon tea, and the easy cadence of shipboard life" on the Lusitania with the "U-boat sweat," foul odors and close air aboard U-20. His enthralling description of passengers joking about submarines and torpedoes, in the very moments before the torpedo strike, and "making polite apologies" just after, in the scramble for life jackets, keep the reader fully engaged. Appealingly, in his "Note to Readers" and "Sources and Acknowledgments," Larson writes in a more personal voice about the joy of the research process, and about his frank difficulty in understanding the passengers who boarded the Lusitania in the face of warnings from Germany about travel in a war zone.
Dead Wake is both a thoroughly satisfying read, and an unparalleled adventure into world history. Larson's fans will rejoice, and grow in number. --Julia Jenkins