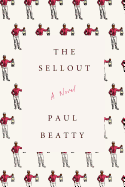 Paul Beatty tramples the stereotypes and accepted sociology of American black males with dazzlingly smart fiction. The protagonists of his first two novels, White Boy Shuffle and Slumberland, are well-read and well-schooled in street vernacular and hip music, with a sardonic skepticism about what it means to be a black man in the modern world. The Sellout takes this same mix to the next level; it's an over-the-top fable of a young black man with the street name Bonbon who farms an urban tract in the once-rural (fictional) town of Dickens in South Los Angeles.

Bonbon was raised by an academic sociologist with a penchant for using his son for behavioral experiments. When his father is accidentally shot by the LAPD, Bonbon receives a $2 million wrongful death settlement and, as he says, "He and I bought the farm on the same day." With his new wealth and land, Bonbon develops his farm in the tradition of George Washington Carver, finding his own peanut "in the plant life that had the most cultural relevance to me--watermelon and weed."

Beatty is funny as hell and offers a serious consideration of race through a relentless parade of stereotypes. The satire isn't limited to blacks--he also skewers whites, Mexicans, celebrities, Africans, even autistic kids. Behind all the humor, however, Beatty asks important questions about racism and identity. The Sellout is a knock-out punch to everything all races smugly accept as our appropriate roles in a diverse world. It's always more complicated than we think. --Bruce Jacobs, founding partner, Watermark Books & Cafe, Wichita, Kan.