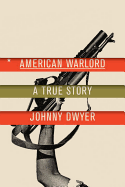 The story of Chucky Taylor is a grisly study in nature versus nurture. Chucky's future was not necessarily bright--he was raised by his Trinidadian-American mother in Orlando until age 17, in Pine Hills, nicknamed "Crime Hills," a neighborhood more like an inner city than a suburb. Chucky was a troubled teen whose defiance landed him in a disciplinary high school, until a phone call from his estranged father, Liberian rebel Charles Taylor, turned Chucky's slow downward spiral into a fiery tailspin.
The Taylors reunited in the midst of Liberia's 1990s civil war. Chucky visited his father's stronghold in the Liberian countryside, where Charles Taylor's National Patriotic Front of Liberia battled other rebel groups for control of the country. Chucky returned to Orlando briefly before a felony gun charge forced him to flee back to Liberia.

Charles Taylor's ascent to the presidency brought Chucky immense power. He was appointed leader of the Anti-Terrorist Unit, a paramilitary brigade and instrument of state terror. Chucky devolved into an unstable drug addict who casually inflicted the worst tortures imaginable on innocent people. He was finally brought to justice in 2009, six years after his father's downfall, when he was sentenced to 97 years in prison.
American Warlord, journalist Johnny Dwyer's first book, skillfully untangles the previously obscure threads of Chucky Taylor's life with a treasure trove of original reporting. Dwyer's fluid prose paints the compelling portrait of a troubled young American made monstrous by his own demons and his father's demonic influence. --Tobias Mutter, freelance reviewer