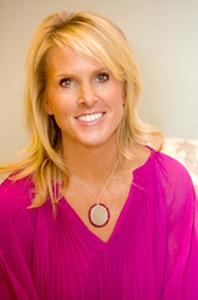 photo: Laurie Richards
Twenty-two years ago, Elin Hilderbrand sublet her Manhattan apartment where, after college, she'd been living and working in publishing and as a teacher, and spent the summer on the island of Nantucket off the coast of Massachusetts. "The second my ferry pulled into the harbor I thought, I'm never going back (to New York)," she says. Ever since, this bestselling author has called Nantucket home, on the page and off--all of Hilderbrand's 16 novels are set on the island. Hilderbrand has been labeled "the Queen of the Summer Novel"; her fans expect a new book from her every summer, featuring ensemble casts of characters, the complexities of contemporary family life and romantic entanglements.
In 2014, Hilderbrand published her second novel of the year, Winter Street, a story about the Quinns, a large dysfunctional family that gathers on Nantucket for Christmas and faces unexpected surprises. In Winter Stroll (see our review below), Hilderbrand reunites the Quinn family as they face new familial complications and partake in holiday festivities particular to Nantucket.
Did you plan to write a Christmas series of books?
In the summer of 2013, my publisher, Little, Brown, had a book fall off their winter list, and they asked if I could write a Christmas book in four weeks. I said, "No!" But it got me thinking about Christmas novels, and I came up with the idea of the Winter Street Inn and the Quinn family. I knew I wanted it to be a trilogy, but it took the first book for me to convince my publisher.
Why should readers want to read your "Winter" series when they've grown so accustomed to your "Summer" novels?
The Christmas books give a whole new aspect to life on Nantucket. It happens to be one of the most charming places in America to celebrate the holidays. In Winter Stroll, I tried to incorporate the fun aspects of Nantucket's annual holiday festivities, including Winter Stroll Weekend, where Nantucket becomes a winter wonderland. At the Festival of Trees party, the Whaling Museum is all adorned and decked out, and island businesses and organizations decorate 100 Christmas trees. Nantucket restaurants and people--year-rounders and summer residents--dress up and kick off the Christmas season in style.
How did you create the Quinn family for the series?
I knew I wanted a large, blended family--a man with a wife and an ex-wife, with children by each. I myself have two older boys, then a girl. So I used that combination from my own life in the story, and I added the character of Bart, who is deployed to Afghanistan, to the creative mix. Bart is the son by the second Quinn wife.
Your books often juggle multiple story threads and characters.
Yes, I wait to see what my characters will do once I create them. It's always surprising.
Do you have a favorite character from the "Winter" novels?
Hands down, my favorite character is Kelley Quinn's first wife, Margaret Quinn, who is the anchor of the CBS Evening News. I love Margaret because she is a working mother and at the time that I started writing this novel, I was so absorbed with work that I suffered from mom guilt. I wanted to write a novel where the working mother came in to save the day, where the working mother was the hero.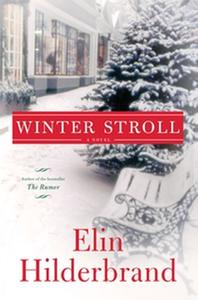 In Winter Stroll, you mention that Ava (the music teacher) despises the Christmas song "Jingle Bells." Is this a personal dislike of yours?
All music is personal and our predilections are inexplicable. I hate "Jingle Bells." Hate it. I was able to vent this particular dislike in the character of Ava.
You've been writing two books a year. Is it hard to do?
Yes, it's an insane work schedule! I began writing two books a year with Winter Street. I have two down, one to go in the "Winter" series. And then I hope to reclaim my life and go back to one book a year.
Do you have a favorite novel among those you've written?
My favorite of recent novels is Summerland, which takes place at Nantucket High School. My favorite character is Hobby. If you want to understand why, you really have to read the book.
Which is the most difficult novel you've written?
Silver Girl, but in some way each novel gets progressively harder because my job is to write the same thing and yet something completely different. It's a tall order.
Have you ever had the urge to revisit characters from your prior novels?
Yes, I'm considering writing a murder novel called "N" and bringing back characters from the past 10 books.
You are a breast cancer survivor. Did that affect your writing?
The only connection between my cancer and my writing is that the writing kept me focused and occupied during a very trying time. I wrote The Rumor all throughout my illness, surgeries and treatment. I have to admit, I look back and I can't believe I kept going.
You graduated from the "literature-based" writing programs at Johns Hopkins and the University of Iowa. How did you come to write commercial women's fiction?
I wrote short stories while at Iowa. When I graduated, however, it was pretty clear there wasn't really a market for stories. I needed to write a novel, and I wanted to write one set on Nantucket. From there came my idea for my first published novel, The Beach Club--and the modern beach book was born. I don't think in terms of literary or commercial. I think of writing about people and the place that I love better than anywhere on earth.
Do you think you'll ever write a novel not set in Nantucket?
My novels will always be set primarily on Nantucket, although the one I'm writing now is also set in New York City, Kentucky and L.A. And on deck... a novel about Nantucket and Martha's Vineyard.
Would you be willing to offer readers a glimpse into your next "Summer" novel?
Sure. It's called Here's to Us, and it's about a very famous, very successful and very tormented Manhattan chef who kills himself on page one. His three ex-wives and their children come to Nantucket to the house he impulsively bought in order to spread his ashes. --Kathleen Gerard, blogger at Reading Between the Lines